Paris Fashion Week 2015 Street Style Photos: Best Images From the City's Streets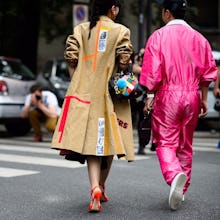 The high-end fashion showcased during Paris Fashion Week, which kicked off on Sept. 29 and wraps up on Wednesday, wasn't exclusive to the runway. Some of the edgiest outfits donned during fashion week were those worn the city's streets.
Parisians, bloggers, editors and fashionistas alike peppered Parisian sidewalks with bold couture. Some style experts say the best looks aren't what's trending at the shows but what people choose from their closets. "You should always buy against the trends; they never last," street style guru and jewelry designer Michelle Elie told Vogue on Friday. "Find your personality and yourself among the fashion world, and go with it without compromise."
Elie posted an image of her look at a cafe in Paris on Monday to Instagram, showcasing her sharp approach to fashion.
Many fashion industry leaders consider Paris the world's fashion capital, home to the headquarters of brands like Chanel, Louis Vuitton and Dior. "Stylistically innovative and technically exceptional, the outstanding reputation of the French clothing industry can be traced as far back as the 17th century, and it is a reputation that has only continued to strengthen since," Hannah Bergin of the Culture Trip writes. 
Here are the unique street-style looks spotted during this year's Paris Fashion Week: