ModCloth's Website Just Dropped its "Plus Size" Category for the Best Possible Reason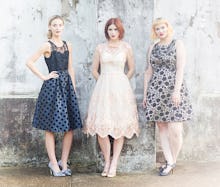 ModCloth, the online women's clothing retailer known for its flirty dresses and vintage looks, announced in a press release on Tuesday it was eliminating the category "plus size" on its website's homepage. Instead, the retailer will include such clothing under the "extended sizes" label, which appears in the dropdown menu for each clothing type listed.
It's part of a larger decision by the company to embrace a more body-positive attitude on the site, ModCloth co-founder Susan Koger told Mic. That entails not having a separate section for plus-size customers on the homepage, which can lead to customers feeling stigmatized and excluded. Categories on the ModCloth website should be classified by type of clothing instead of an individual's body type, Koger said.
"We thought ...  why does our online experience call out 'plus' as a separate shopping experience?" Koger said. Eventually, she said, the company will purge the term "plus size" from the website altogether.The term "extended sizes" will allow the company to be even more inclusive in the future, since the term can apply to petite and tall sizes as well, Koger said.
To embrace "plus" or not? The company's decision comes at a time when the term "plus size" has been hotly debated among body-positive activists, models and retailers. Social media campaigns like #DropthePlus have argued for doing away with the terminology, which they say can lead to women feeling bad about themselves and their bodies. 
"I'm often labelled a 'plus size' model. I do NOT find this empowering.... Let's have models of ALL shapes, sizes and ethnicities, and drop the misleading labels. I'm NOT proud to be called 'plus', but I AM proud to be called a 'model', that is my profession!" Stefania Ferrario wrote in an Instagram post in March about the #DropthePlus campaign. #DropthePlus aims to do exactly what the name suggests: remove the term "plus" from fashion altogether to make it more inclusive.
On the other side of the spectrum are campaigns like Lane Bryant's #PlusisEqual, which features six plus-size models who've embraced the term "plus size." Candice Huffine, one of the models in the Lane Bryant campaign, previously told Mic that she supports the term even though she believes at the end of the day, she's simply a model, "plus" or not.
"With being able to redefine the term ['plus'] the way that we are doing today, there's no reason not to be proud," Huffine told Mic. "It's an extremely positive word. I think there's been negative connotations circling around it, because people assume plus means unhealthy, or not proud, not into fashion, not confident and wants to change their body." 
Customers are also roughly split down the middle. On Tuesday, ModCloth also released data from a 1,500-person survey conducted by Paradigm Sample, which analyzed the feedback of women ages 18-35 who wear a size 16 or above. Of those surveyed, 56% said they were frustrated at being labeled "plus-size."
After receiving the results of the survey, the company debated whether or not to do away with the term. Ultimately, they decided dropping it would help promote a more inclusive shopping experience. 
Plus-size clothing is often segregated: It's common to see plus-size clothing and so-called "regular" clothing separated in stores, with larger sizes relegated to the back of stores—a problem that the actress and now-designer, Melissa McCarthy has repeatedly called out. The fact that the fashion community tends to ignore plus-size labels sends a bad message to women, McCarthy told Refinery29.
"You're taking your biggest category of people and telling them, 'You're not really worthy," she said. It's a sentiment echoed in the ModCloth survey, with 79% of those surveyed stating they believe the fashion industry ignores the needs of plus-sized women.
Shopping can also be an emotional experience for women who are plus size. For instance, at a fit shop for ModCloth, where customers get measured for clothes and then have them shipped later, one employee recounted a story about a customer apologizing for her body type, according to Fortune. When the employee offered some words of support, the customer began crying. 
In general, however, ModCloth's fit shops have generally offered positive experiences for shoppers. Since the stores don't put larger sizes in different sections, they allow friends of various body types to shop alongside one another, according to a company blog post.
Koger said ModCloth wants to translate that sort of inclusive shopping to their website. "It never feels good to feel excluded or to feel 'othered' when you're shopping," Koger said. She added that the company is asking its customers for feedback and has created the hashtag #StyleforAll to help the conversation trend on social media. 
"You know, at the end of the day, fashion should be fun. Shopping shouldn't be an experience that makes me feel bad," Koger said. "It should be something that you can do with your friends."