Microsoft Surface Pro 4: Price, Release Date and Features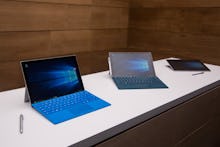 Microsoft unveiled its Surface Pro 4 device on Tuesday at the Windows 10 device briefing in New York City. Microsoft positions the Surface Pro 4 as a tablet powerful enough to replace a laptop, according to the hardware maker. Priced at $899, the Surface Pro 4 is currently available for pre-order, though devices won't start shipping until Oct. 26.
"This is the fourth generation of building a tablet that can replace your laptop," Panos Panay, Microsoft's vice president of surface computing, told audiences on Tuesday. "We are there. This is the thinnest, most powerful core PC ever shipped by far." 
Features: The Surface Pro 4 upgrades the tablet's screen size to 12.3 inches on the diagonal without changing the device's layout. The tablet comes equipped with HD video conferencing technology, volume-conscious i7 processors and battery life that lasts up to nine hours.
Seeing as though portability is key for tablet users, Microsoft's latest device weights just 1.69 pounds. That's a close second to the lightest Wi-Fi iPad, made by rival corporation Apple, which clocks in at 1.5 pounds. Apple's more advanced iPad Pro, the Wi-Fi model with 3G, weights a comparable 1.6 pounds. Go here for a full list of specs.
Speaking of the competition, Panay was quick to fire shots at Apple during Tuesday's event. While presenting the  Surface Pro 4, Panay claimed Microsoft's device is 50% faster than the MacBook Air.
Although Microsoft super-fans will have to wait on a late October shipping date, judging by the tech community's reaction on Twitter on Tuesday, the Surface Pro 4 is worth more than its weight.