Kendrick Lamar Speaks About How Eazy-E Changed Music Forever in 'Paper' Magazine Essay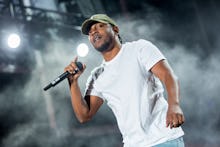 Kendrick Lamar understands his roots. No other rapper in recent memory has gone out of their way to appreciate and educate his listeners about hip-hop history the way he has. 
He filled his recent To Pimp a Butterfly with allusions to Tupac and the consciousness that artist brought to rap. He's dissected the complexities of Eminem's flow for a French publication. He's helped the world understand N.W.A's and Quincy Jones' influences, speaking with Billboard and Hypetrak, respectively. On Tuesday, he shared his thoughts on another legend, Eazy-E, in a new reflection for Paper magazine. 
"You don't even have to be a gangsta rapper, but the fact that you can be able to talk about your community and some of its harsh realities, that comes from none other than Eazy-E, period," Lamar says in Paper, talking about the Compton legend's influence in no uncertain terms. "Because before then, everything was pop." 
The elements he chooses to touch on in Eazy-E's work offer some intriguing insights into why Lamar has chosen to tell the stories he has over the course of his career.
Lamar gives the formerly N.W.A-affiliated Compton legend a tremendous amount of credit for helping the world see the value in hip-hop's challenging and controversial stories of ghetto life. 
"What made Eazy special was that he was telling a different type of truth, a truth that wasn't heard in music yet," Lamar says. "Before them, rap was fun — you had your battles and whatnot, but this time around, when it came to what Eazy wanted to do, being a visionary, he had the idea of speaking the honest truth, and I think it really resonated with a lot of people because it was the shock value of, 'Okay, these guys are really standing out and focused on telling their reality, no matter how pissed off you get by it.'"
Witnessing his community bump these records that played like a "real-life introspective report" of Compton life encouraged Lamar to make music for his own community first.
"If my backyard — and my backyard being my city and my county — doesn't believe me, then no one else will," Lamar says. "I always remember that. I always kept that in the back of my mind and I think that's exactly what N.W.A did, and that's why they said they want to make music for the community first, because to have that home love is like nothing else."
Nearly all of Lamar's music can be seen as a complex love affair with his hometown of Compton, California. Section.80 offers stories set outside the Compton court building. His album good kid, m.A.A.d. city serves as a semi-autobiographical account of several traumatic moments from his upbringing. To Pimp a Butterfly references the responsibility he still feels to tell Compton's story though he's managed to escape all its traps. 
The State of California acknowledged Lamar's efforts to speak to the underserved in Compton, honoring him with an Generational Icon Award in May. Yet Lamar's career focus would have been undeniably different had Eazy-E never bothered to the truths he did on records like "We Want Eazy" and "Real Muthaphuckkin G's."
"I wouldn't be here today if it wasn't for Eazy, and I wouldn't be able to say the things that I say, talk about my community the way I talk about it, for good or for bad," Lamar says in Paper. "[Eazy-E will] always live forever, not only 50 years from now but a thousand years from now. His name will always be in people's hearts, because he gave people the opportunity and the voice to say what they want and how they feel."