New Survey Shows GOP Supporters Tend to Make More Grammatical Errors Than Democrats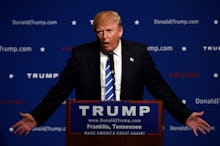 It's no secret that both Democrats and Republicans secretly think they're much smarter than each other.
However, a new survey of social media posts by writing-enhancement platform Grammarly seemingly confirms progressives' snide suspicions: People who support Republican candidates tend to make grammatical errors at much higher rates than those who support Democrats — at least, when they're leaving comments online.
Grammarly analyzed approximately 180 representative comments from each presidential candidate's official Facebook page, choosing only positive or neutral posts to check for grammatical errors. In their total analysis of more than 6,000 comments, GOP candidates emerged as clear leaders in the field of linguistic mistakes.
Former Secretary of State Hillary Clinton is tied at 6.3 errors per 1,000 words with former Hewlett-Packard CEO Carly Fiorina. Past that, it's all downhill for the GOP set, with fans of real-estate billionaire Donald Trump coming in at a whopping 12.6 errors per 1,000 words — only former Pennsylvania Sen. Rick Santorum even comes close to matching the Donald at 11.5.
Ouch. Perhaps Trump's supporters are taking their cues from his odd, rambling style at the podium. On the other hand, the reason Democratic candidate Lincoln Chafee comes in with the least errors is probably because only well-educated people are likely to even know who he is.
Does this mean anything? Probably not, considering people who have the time to debate (or troll) online may not exactly comprise a representative sample of the population. If it does, though, remember that even the grammatically challenged can vote.