These 9 Books Show the Complexities of Living with Depression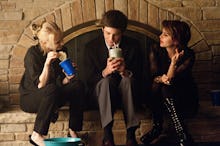 Like many mental illnesses, depression is difficult to write about unless that writing draws from personal experience. But even those who have that knowledge face a challenge in the attempt to how to translate the feelings of depression into character and motivation. Depression is complex, deserving treatment equally so.
Luckily, in the age of the Internet, people who understand this can speak out. Books both modern and classic face more than just a New York Times review. The Internet is a book club gone worldwide.
With that in mind, we've collected up nine books of various genres — both fiction and nonfiction — that deal with depression in their pages. We've also selected portions of GoodReads reader reviews to share. Not all of the depictions are wholly positive, but they get at the core of what it means to live with depression.
Sylvia Plath's only novel follows a young woman, Esther Greenwood, through schooling and the professional world in New York. She isn't interested in anything around her, though, staying more insular and eventually undergoing mental health treatment at two different facilities. The "bell jar" of the title refers to how she describes feeling depressed, as if she cannot breathe beneath it.
From reader Madeleine Maccar's review:
I couldn't help but brace myself for a trivial tribute to mental imbalances, White Girl Problems and petty complaints disguised as life-ruining moments. What I got was an utter lack of histrionics and a sincere, to-the-point road map of one talented young lady's fight against her inner demons. ... If nothing else, this book taught me that my own bouts of the blues are simply me being human and could be so much more debilitating: For that clarity of self-awareness alone, I am grateful.
A young adult book that transcends genre placement, Stephen Chbosky's novel tells the story of introvert Charlie and his school experiences after the death of his best friend. It's revealed later in the book, however, that Charlie's issues go far beyond simple shyness. His trauma lends the book a second layer — he's not an easy kid to figure out, and it's understandable why.
From reader Megan's review:
Like most of us at one point in our teens, I felt like an outsider like Charlie. Without my closest friends around me, I was a definite "wallflower" — the insecure, [quiet] nerd who would rather blend in then be seen. 
The Noonday Demon takes a look at depression through a variety of lenses. There's a scientific element to it, but also a broader cultural one, influenced by author Andrew Solomon's own experiences. The book's examination of living with its titular demon earned it a nomination for the Pulitzer Prize.
From reader Jenny's review:
Rather than try to summarize depression, he lets it stay messy as it really is, different for each person, with no clear path for treatment.
In Laurie Halse Anderson's 1999 novel Speak, Melinda Sordino feels the pain of exclusion from cliques after she calls the police at a party. Her reason is important — she was attacked — but she is blamed when the police bust up the party. As a result, she becomes depressed and stops speaking. The novel itself is highly experimental, with intertextual references to other works.
From reader Mary's review:
Melinda is such a thoughtfully rendered portrait of a smart, funny, terribly depressed teenager that I was hooked from her very first lines. To me, the actual story was almost extraneous — the plot itself is a bit unwieldy — but Melinda's anxiety, isolation and desperate attempts to cope with the horrors of adolescence were so real it was spooky.
Susanna Kaysen's memoir details her personal experiences in a psychiatric hospital as a teenager. Better known for its film adaptation, the original book cuts far deeper than just an account of the author's personal experiences. Instead, Kaysen hits on living with a range of mental illnesses, unflinching in looking at exactly how difficult such a life can be.
From reader Carol's review:
[This book] is so important today for girls, as well as young and older women who daily struggle with their depression and/or other mental disabilities.
Often compared to The Fault in Our Stars, All the Bright Places does share a lot of DNA with John Green's phenomenon. There's a girl dealing with the weight of the world — in this case, mourning her sister — and a Manic Pixie Dream Boy who drags her out of it. What separates All the Bright Places, however, is how it nails the suffocating nature of depression.
From reader Brenna's review:
I felt the authenticity behind the words so deeply. I never felt like the author was writing what she thinks someone wants to read or being manipulative to gain emotion. There were so many times during reading this that I shouted, "Exactly!" because the sentiment and feelings were so genuine and spot-on.
Wally Lamb's novel follows a teenager who becomes depressed after her father leaves her mother and she is raped by her new neighbor. Dolores eats and drinks a ton of junk food and soda, causing her weight to balloon over four years. College kids are unkind to her, and she winds up institutionalized. She's Come Undone is a tough read, but an important one for the depth it gives its protagonist.
From reader Sammy's review:
Dolores' story is moving and has something we can all relate to, especially those of us who have ever gone through a trauma or depression. But one thing that's different about Delores is that you can't pity her. She doesn't want that, and Lamb has not written her that way.
Unlike in the other novels on this list, Fangirl's protagonist, Cath, is not the one living with depression. Instead, it's her father who is manic-depressive. Watching her go off to school, but still worry about her single father who's never been on his own, is an incredibly authentic experience. It serves as a reminder that in a family, living with depression isn't a solo activity.
From reader Komal Mikaelson's review:
[Cath] is hesitant to trust others, reluctant to make friends, but once you get to know her, you can't help but feel she is amazing. She is a geek. A nerd. A bookworm. And I loved that about her. I loved how strong she remains in crisis, how caring and supportive she is of her father, how protective she is of Wren.
Meursault, the lead character in Albert Camus' 1942 classic, isn't diagnosed in The Stranger. Is he depressed? A sociopath? An aloof character wandering through a challenging novel without much in the way of plot? Much is left up to interpretation. That difficulty is what makes The Stranger so compelling: It's not interesting despite its rigidity, but because of it. The situations he gets himself in, be it dealing with death or standing trial, aren't nearly as important as Meursault's journey is.
From reader Ryan's review:
During Meursault's trial, he is constantly accused of not showing remorse and therefore as being cold and inhuman. He is most definitely human though, just rather detached. This raises the question of whether one should be expected to exhibit certain characteristics in certain situations to "keep their humanity."