Bill Clinton Just Explained Bernie Sanders' Appeal to Stephen Colbert — And He's Right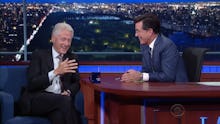 "Why do you think Bernie Sanders is doing so well?" Stephen Colbert asked Bill Clinton on Tuesday night's episode of The Late Show With Stephen Colbert.
Clinton didn't miss an opportunity to throw his two cents into the punditry ring. 
"Because there are a lot of people all over the world that are really hacked off, that think the system is rigged against them and the rich get all the gains," the former president said of Sanders, the Democratic presidential contender and his wife's rival. 
"And, in America, a lot of them believe that the Republicans have rewarded people for going the furthest to the right, so [they think] the Democrats would be even more effective if they moved further to the left."
Clinton's assessment is not at odds with what the Republican presidential candidates have revealed of their party's ideology. Calls from respective candidates to round up undocumented immigrants (admittedly, "in a very humane way"), defund Planned Parenthood — regressing reproductive rights for women — and cure the United States of its "Muslim problem" seem to push one another further and further to the right. 
Whether or not the GOP's escalating extremism is the source of Sanders' popularity, the Vermont senator and socialist has proven to be a dark horse in the primary presidential race and recent polls show him neck and neck with Hillary Clinton. 
Even in fundraising — the most notable disparity between the two candidates, given the political capital the Clintons have accrued after decades in mainstream politics — the gap is narrowing. The Sanders campaign reportedly raised $26 million in three months, in the last quarter; the fundraising deadline for the quarter was Thursday.
In the same interview, Colbert kidded with Clinton and inquired as to whether he had orchestrated Donald Trump's entrée into the political arena to make his wife's candidacy an easier one.
"There's a rumor out there — feel free to dispel this — did you call Donald Trump and ask him to run for president of the United States?" Colbert asked. 
"No, no, no," Clinton said, between chortles. 
"No? 'Cos that would be pretty smart, man," Colbert quipped.
"Yeah. I get credit for doing a lot of things I didn't do ... like that," Clinton admitted.
"'Credit,'" Colbert mocked, with air quotes.
It remains to be seen if the American people still have an appetite for the establishment — i.e. Clinton — in the upcoming elections, or if they are ready to upend what some (including former President Jimmy Carter) are calling an oligarchy... in which case, it's looking good for Sanders.