Watch Bindi Irwin's Emotional Tribute to Father Steve on 'Dancing With the Stars'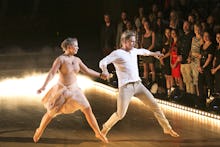 This week's Dancing With the Stars challenged 17-year-old Bindi Irwin to perform a routine about her most memorable year. In doing so, she made a memory of her own that viewers won't soon forget.
The young conservationist and daughter of the late Steve Irwin told her partner, five-time DWTS winner Derek Hough, the memory that made her who she is was when her dad died. "It's been nine years, and I never really dwelled on that point where he passed away," she says in the episode. "I think that I'm ready to tell that story."
Her rehearsals are quite intense, with the young competitor breaking down in tears multiple times during her pre-roll package. Even her partner and choreographer get quite emotional.
"It gets you thinking about just how precious life is," Hough says.
When it comes time to perform, however, Irwin is the picture of poise and grace. The pair perform a contemporary routine, set to Sting's "Every Breath You Take." In it, Hough serves as Steve stand-in, a warm figure guiding his daughter.
As she and Hough dance their last few movements, Irwin bursts into tears, sobbing into her partner's shoulder. The audience wildly applauds as she and Hough take a moment.
The dance prompted effusive praise from judges Julianne Hough (sister to Derek), Carrie Ann Inaba and Bruno Tonioli. "That was a tribute to your father, and I know you should be very proud," Julianne Hough says. "But he is very proud too."
Irwin's dance shows the power of art and performance in coming to terms with grief. Be it on a national stage like Dancing With the Stars or simply seeking out support in something like art therapy, for many, creative expression is vital. To see a 17-year-old girl process her father's passing nearly a decade later in such breathtaking fashion makes this dance truly one for the ages.
Watch the full clip below.