Ashley Benson in Cecil the Lion Costume on Instagram Causes Backlash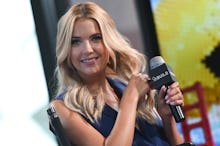 There is already controversy surrounding certain Halloween costumes as the holiday nears, and actress Ashley Benson added fuel to the fire when she Instagrammed herself posing as a sexy "Cecil the lion," the treasured African lion whose death went viral after an American dentist hunted him in July. 
When the Pretty Little Liars star posted the photo Tuesday, she originally asked her 9.3 million followers what they thought. "Help! Can't decide on my Halloween costume this year!" she first captioned, Entertainment Tonight reports. "What do you guys thing of this Cecil the lion costume?"
After receiving criticism from fans, who called the reference "offensive" and in "bad taste," she changed the caption to just say "lion," according to the report. 
Benson's followers are dishing out some harsh criticism on the Instagram post:
Benson's costume is for sale on the sexy clothing site Yandy as a "deluxe lion" costume for nearly $150. A similar provocative costume on the site is labeled "Cecil the lion," however the description claims 20% of the proceeds will go to the Global Conservation Organization to "support global conservation initiatives."
"Show your support for all wildlife in this limited edition Cecil the lion costume featuring a light brown, crushed velvet romper with long sleeves, a zip up front, attached lion tail, a cheeky cut back and a deluxe, faux fur trimmed hood with lion ears," the costume description reads. 
Still, some don't support the idea of a sexy Cecil the lion costume:
The costume company Costumeish was already selling a costume of Cecil the lion's killer in August, complete with spattered blood and a severed lion's head. Johnathon Weeks, the company's vice president, told Time that consumers wanted the contentious costume.
"Cecil was coming up, and just like with many of the other ones, like the Ebola or the ALS Ice Bucket Challenge costumes, we see the trend from users," Weeks told Time. "Halloween is a really tricky day and you see some of the costumes come about and it's almost like desensitizing things."