Nicki Minaj Calls Out Miley Cyrus' Hypocrisy in 'New York Times Magazine' Interview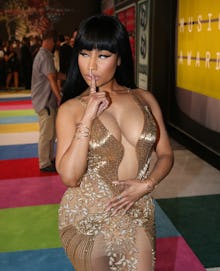 Powerhouse rapper Nicki Minaj is the subject of an illuminating New York Times Magazine exposé published Wednesday and penned by writer Vanessa Grigoriadis. In the tell-all feature, Minaj does what she does best: speaking her mind without reservation and taking aim at what she sees as cultural and racial injustice. Her target? Former Disney child star-cum-singer Miley Cyrus, who has frequently been criticized for appropriating black culture, often in a racist way.
"The fact that you feel upset about me speaking on something that affects black women makes me feel like you have some big balls," Minaj told Grigoriadis, addressing Cyrus directly. "You're in videos with black men, and you're bringing out black women on your stages, but you don't want to know how black women feel about something that's so important?" Minaj thinks Cyrus should dig deeper. 
"Come on, you can't want the good without the bad," she said in the interview. "If you want to enjoy our culture and our lifestyle, bond with us, dance with us, have fun with us, twerk with us, rap with us, then you should also want to know what affects us, what is bothering us, what we feel is unfair to us. You shouldn't not want to know that.''
This is the second time in nearly six weeks Minaj has made a point of publicly confronting Cyrus. Onstage at the MTV Video Music Awards on Aug. 30, as she was collecting the best hip-hop video award for "Anaconda," Minaj called Cyrus out about a recent New York Times interview, in which Cyrus weighed in on a Minaj-Taylor Swift Twitter debacle. In that separate feud, Minaj and Swift butted heads after Swift mistook Minaj's tweets for a personal attack.
Minaj later blamed the backlash to the social media exchange on the "white media" for overselling the Twitter feud. 
Minaj's declaration is no small topic of debate, considering the Twitter spat with Swift escalated after Minaj suggested that black women are "rarely rewarded" for their contributions to pop culture. That's a conversation worth continuing.
Swift later apologized for the misunderstanding and, to dispel any bad blood, the two performed a duet onstage at the VMAs.
But Minaj and Cyrus were on rockier ground at the event. Referencing the thorny Twitter exchange, Cyrus told the New York Times in the Aug. 27 interview that what she read "sounded very Nicki Minaj, which, if you know Nicki Minaj, is not too kind." Minaj came to the stage ready for a fight.
When Grigoriadis asked Minaj if she thrives off "drama," a reference to the recent feud between Minaj's label mate Drake, boyfriend and rapper Meek Mill and rappers Lil Wayne and Bryan Williams, a.k.a. Birdman, Minaj said she felt the question was "disrespectful." 
"What do the four men you just named have to do with me thriving off drama?'' Minaj responded. "Why would you even say that? That's so peculiar. Four grown-ass men are having issues between themselves, and you're asking me do I thrive off drama?"
"That's the typical thing that women do," Minaj continued. "What did you putting me down right there do for you? Women blame women for things that have nothing to do with them. ... To put down a woman for something that men do, as if they're children and I'm responsible, has nothing to do with you asking stupid questions, because you know that's not just a stupid question. That's a premeditated thing you just did."