Philadelphia Transgender Woman Kiesha Jenkins Gunned Down Tuesday Morning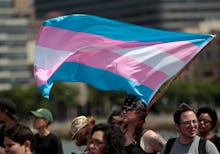 Five or six unidentified men attacked, shot and killed Kiesha Jenkins, 22, a Philadelphia transgender woman of color early Tuesday morning, Philadelphia magazine reports. Jenkins was pronounced dead within the half-hour at a local hospital. 
Jenkins' death marks the 21st homicide of a transgender woman in the United States and the 18th homicide of a transgender woman of color in 2015, the Anti-Violence Project told Mic. Jenkins is also the second killing of a transgender woman in Philadelphia this year after the fatal stabbing in May of 21-year-old London Chanel.
This is a crisis: Philadelphia homicide Capt. James Clark told the Philadelphia Inquirer that Jenkins exited a car moments prior to her murder. Once out of the car, the group surrounded Jenkins and when she fell to the ground during the assault, they was shot twice in the back. Police have not yet determined a motive. 
News of Jenkins' death comes only one day after news of the death of Melvin, a 30 year-old Detroit black gay man who often dressed in feminine clothing. According to the Anti-Violence Project, Melvin was dressed in feminine clothing when he was killed. 
A harrowing year for trans violence: "We know transgender women of color are disproportionately killed and that there's an crisis of violence against transgender women of color in this country," Chai Jindasurat, co-director of community organizing and public advocacy at the New York City Anti-Violence Project, told Mic. Jindasurat also runs the National Coalition of Anti-Violence Programs. 
According to the Anti-Violence Project's 2014 Report on Lesbian, Gay, Bisexual, Transgender, Queer and HIV-Affected Hate Violence, at least 12 known transgender women were killed in 2014. That number has already almost doubled during this particularly bleak year of transgender violence. The first two months of 2015 saw one transgender women murdered every week for the first eight weeks. 
"Even if there's no clear motive, we know that her identity was part of the violence that she experienced," Jindasurat said. "We can't say that this violence is random or by coincidence."
Jindasurat is working for, and hopes to see, sweeping cultural and policy changes to reduce and prevent this violence in the future. 
"In terms of policy changes, transgender people need to be protected from discrimination in every part of their life from the classroom to employment to housing," he said. 
The importance of being counted: However, in order to enact this change, the U.S. Census Bureau, which does not track the population currently, must recognize transgender Americans by the numbers. Orange Is the New Black actress Laverne Cox recently called for the bureau to count the transgender population in hopes of addressing the crisis of anti-transgender violence. 
"What message are we sending to young people who are trans and gender-nonconforming when we don't even count them?" Cox asked at the Social Good Summit in New York on Sept. 28. "We suggest their identities don't even matter." 
Cox says any systemic change must begin with visibility, then move beyond that to systemic change. 
"I was thinking that visibility is only part of the equation," she said. "We must have social policy, systemic change. And then I thought about the census. Systemically, this idea of the gender binary is very much institutionalized in the fact that we just don't count trans people." 
People used Twitter to do what Cox hopes for: Make transgender lives visible and make them count. Many of the tweets expressed feelings of frustration, anger and disgust at the climbing number of transgender women killed in 2015.