This Bra Company Is Getting It Very Right — and Victoria's Secrets of the World Should See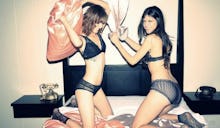 Lingerie is probably not the first thing that pops into your mind when you think "female empowerment." But for the lingerie start-up Naja, that's the goal. 
The company, founded by a female entrepreneur in 2013 as "an alternative to Victoria's Secret," according to USA Today reports, wants to support women in more ways than one. 
In doing so, they're highlighting the various ways a clothing company can actually help, not hurt, the customers to whom it sells.
Clothing for women, made exclusively by women: Founder Catalina Girald consciously laid the foundation when deciding to manufacture entirely in Colombia and only sell garments online. In doing so, Girald has been able to teach women in the community marketable skills like sewing, pay her employees a livable wage, offer a flexible work environment and invest in school books, uniforms and school lunches for her employee's children, according to a press release. 
Oh, and all of the workers at Naja's factory in Colombia are single mothers and/or female heads of households. 
Through the company's Underwear for Hope program, Naja trains and hires at-risk mothers, who work from home on the lingerie bags that come with every bra purchase. Underwear for Hope also donates a percentage of proceeds to Golondrinas Foundation in Medellin, the city where Girald was born.
That sort of socially conscious mission is clearly one that appealed to shoppers: Naja raised over $25,000 on Kickstarter in 2014 and made an appearance on Shark Tank earlier this year.
Bras for all bodies: Now the company is doing one better by changing another part of their image. On Tuesday, the company announced Jane the Virgin star Gina Rodriguez would come aboard as a new co-founder. 
A spokeswoman for the brand told Mic that the two met while being filmed for a series on up-and-coming Latinas for Procter and Gamble's Orgullosa, and they "quickly connected over their passion for women's empowerment, body acceptance, and giving opportunities to underprivileged women."
According to Rodriguez, the decision to join the company was largely influenced by the company's dedication to empowering women.
"During my first year of shooting Jane the Virgin, my college friend and her 4-year-old moved into my very small one-bedroom apartment," Rodriguez said in a press release. "I learned firsthand how very difficult it is to be a single mother. When I discovered that Naja employs single mothers and gives them an opportunity to provide for their families while working from home, I asked how I can get involved." 
Another key reason Rodriguez joined up is to implement her new mission for the company: to become as body-positive as possible. 
"Catalina is largely responsible for the design, and we've had many meetings, phone calls, [and] photo shoots to collaborate," Rodriguez told Refinery29. "I've been discussing how to implement our mission: to employ single moms, create a brand for women of all sizes and shapes and encourage body confidence for all women who wear our lingerie."
Currently, the brand carries bras in sizes 34A to 34DDD and underwear up to a 2XL. 
"We want all women to feel beautiful regardless of what the media tells us is beautiful," Rodriguez continued to Refinery29. "We also want women to understand that outer beauty is not a measure of self worth; power comes from within."
That's a worthwhile commitment in an industry that so often makes women feel bad about themselves. As evidenced by the high-profile pushback against Victoria's Secret's "Perfect 'Body'" campaign, women have long been flooded with bra ads featuring lithe, flawless models whose bodies are as much the stars as the bras. Any change, from brands big and small, is refreshing.
An eye on the environment: In addition to its crusade for female empowerment, Naja is keeping an eye on the environment. According to the press release, more than 50% of Naja's products are made from fabrics generated from recycled plastic bottles.
"When we make new nylon or new polyester, we are making more synthetic fabrics that will ultimately turn into unused waste when people tire of the clothing," Girald said in a press release. "But by using recycled plastic bottles we are taking existing waste and repurposing it."
For the conscious consumer, Naja is a lingerie company that dreams are made of, especially considering the intense criticism lingerie companies, specifically behemoth Victoria's Secret, have faced. In 2007, a report exposed the horrific work conditions at Victoria's Secret production facilities in Jordan, which appeared to have still been going on in 2013. And two years ago, Greenpeace harped on Victoria's Secret to produce more eco-friendly designs, to which they responded with a promise to eliminate chemicals by 2020. 
Now, when consumers are more conscious than ever of where their clothes come from, and how they make them feel, Naja is showing how a bra company can do things right.
h/t Refinery29