Kourtney Kardashian Poses Nude in 'Vanity Fair' for Metallic Life Series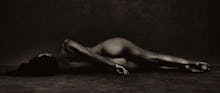 Kourtney Kardashian may not be as open of a book as her sisters, but the eldest of the Kardashian-Jenner bunch is revealing her lesser-seen parts in an exclusive Vanity Fair photo series released Wednesday. The mother of three teased a shot of her nude photoshoot to her 16 million Twitter followers from photographer Brian Bowen Smith's Metallic Life photo series.
"Love being a part of Brian Bowen Smith's #MetallicLife series," the reality TV star tweeted along with the exclusive shot. 
The photo shows the 36-year-old lying on the floor with her backside entirely revealed. The artistic image is just one in a gallery of nude portraits Smith captured. 
Each photograph is printed on metallic paper, accentuating the "tantalizing textures of skin," Smith told Vanity Fair. The series, including Kardashian's exclusive shot, will be displayed at the De Re Gallery in Los Angeles from late October to Nov. 19, according to the magazine. On Tuesday night, Smith posted a screenshot of the accompanying article to his photo shoot.
"Metallic Life captures the vulnerability and true nature of its subjects — including Kourtney Kardashian, photographed —  through the exposure of their skin," the article reads. It isn't unlike a member of the Kardashian crew to expose some skin, but Kourtney Kardashian generally leaves that to her younger sister, Kim Kardashian-West.
However, Kardashian doesn't seem afraid to show any side of herself. She had her last son, Reign, in December.