California Passes Fair Pay Act to Close the Gender Wage Gap Even More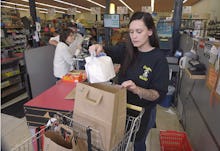 In 2014, full-time working women in the United States were paid 79 cents to every man's dollar — a gap that widens for women of color, according to the American Association of University Women. But thanks to newly enacted legislation, women in California may finally see this gap close.
The Fair Pay Act: On Tuesday, California Governor Jerry Brown signed the state's Fair Pay Act into law at Rosie the Riveter National Historical Park. The bill, SB 358, was introduced by Democratic state Sen. Hannah-Beth Jackson earlier this year and meant to replace the previous state law, enacted in 1949, requiring employers to pay employees working in the same environment equal wages for equal work no matter their gender, according to the Los Angeles Times.
The Fair Pay Act, which goes into effect Jan. 1, 2016, will require California employers to pay workers the same amount for "substantially similar work, even if their titles are different or they work in different offices, unless pay differences result from seniority, productivity or merit," Debra L. Ness, president of the National Partnership for Women & Families, said in a statement Tuesday.
This act expands upon existing legislation, according to its advocates. First, the new language — particularly the phrase "substantially similar work" — notably closes a loophole often used to justify differential compensation, the Huffington Post reported. The act also protects workers' rights to inquire about other employees' salaries or share this information among themselves, importantly combatting unofficial (and often illegal) "pay secrecy" policies upheld by many employers across the country.
Why it matters: Equal pay is not just a matter of equity, but one of the entire nation's economic wellbeing. Women in California, on average, make 84 cents to their male counterparts' dollar, according to the National Partnership for Women & Families. Compared to other states, California has one of the smallest gaps, but the difference among all full-time working women nationwide amounts to nearly $500 billion every year. The national gender wage gap translates to an average $10,876 less per year in average earnings for women across the country, according to the National Women's Law Center. What's more, families in the United States rely on women's income more than ever before: A 2013 Pew Research Center report found that 4 in 10 mothers are either the sole or the primary source of income for their families. 
"Equal pay isn't just the right thing for women," Jackson said while presenting the bill on the California Senate floor in September. "It's the right thing for our economy and for California."
h/t Huffington Post