A Breast Cancer Survivor Tells the Story of Her Body With Beautiful Tattoos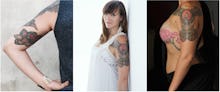 After successfully fighting breast cancer, many women are left dealing with both emotional and physical scars, especially if they've undergone a mastectomy.
When 28-year-old entrepreneur Dana Donofree finished her breast cancer treatment, which included a double mastectomy and breast reconstruction, she wasn't sure how to regain her physical confidence in the face of the scars the cancer left behind.
After mulling through the standard post-surgery options — tattooed nipples among them — Donofree took a more artistic approach to concealing her mastectomy scars: She got inked with an intricate, artistic design of a cherry blossom tree.
"The design came to me almost immediately," Donofree told Mic. "Not only does it carry a beautiful meaning, but it was a way to celebrate my 'tree of life.' I also knew the wraparound design and color would be a great piece to complement my body. And, after much thought and consideration, I found an amazing artist with the right style to pull it all together."
Donofree also got a tattoo on her arm to cover her port scar, which was left after a particularly difficult round of chemotherapy. "I decided on a lotus flower — a sign of rebirth," she said. "And that really helped bring me to a more positive place."
Since completing the tats, Donofree has opened up about her journey to USA Today and Mashable, among others. She told Mic that to her surprise, the response has been mixed. While she's received support and gratitude from women who have been through similar experiences, there also hasn't been any shortage of Internet trolls criticizing her for going public with her experience.
"While they can be very vocal and say some pretty nasty and hurtful things in online comments, social media and message boards, I choose to ignore it," she said.
"At the end of the day, I made this decision for myself, not for anyone else. This mastectomy tattoo is what made me feel whole again. It gave me something to admire and helped me feel good about myself; that's what's most important."
Donofree, who now runs a lingerie business for fellow mastectomy veterans, is one of many women who have photographed their mastectomy scars as a way of feeling better about their own post-cancer bodies. Last month, Scottish woman Amanda Stewart went viral for documenting her journey, which included a preventative double mastectomy and a generous amount of post-surgery selfies. 
According to a 2014 study published in JAMA Surgery, the number of mastectomies performed to treat breast cancer has risen steadily in the past 10 years — suggesting that these women's stories might be more relevant than ever. Donofree hopes that by sharing hers, she can help other survivors feel more empowered after their surgeries — with or without the help of tattoos. 
"When you are first diagnosed there are so many questions, decisions to be made and options to choose from, and differing points of view thrown at you all at once," she said. "However, if you take your time and be true to yourself, you will figure out the right path to take."
h/t Mashable