The iPhone 6s Has a Burning Home Button. This Is How to Deal With It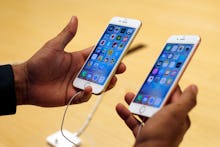 The home button on the iPhone 6s, featuring a faster version of Apple's Touch ID fingerprint sensor, is so hot right now — literally.
Several users reported experiencing an issue with their phones' home button, which tended to overheat, disabling the handset and sometimes shutting down the phone as a result. 
"I have had my phone since Friday, and this morning when I woke up the home button was burning hot and the screen is just black," one user reported in an Apple Support discussion. "Nothing else is hot, not even the charging port, just the home button is on fire."
Other iPhone 6s users shared their frustrations on Twitter:
The issue: Some speculate the glitch may be related to the phone's A9 processor, which had two manufacturers: Taiwan Semiconductor Manufacturing Co. and Samsung, CNET reports. "I wonder how many of these are the Samsung chip or the non-Samsung chip," one user wrote in the Apple discussion.
This issue will most likely be solved by Apple in future updates, according to Boy Genius Report. Apple has fixed several prior iPhone glitches with its recent iOS 9 updates, CNET reports. 
How to deal with it: Users who said they reported the problem to Apple Support were urged to perform a hard reset on their phone by holding down the power and home button simultaneously for about 10 seconds. 
Some users reported that a hard reset eliminated the problem, while others say it only worked as a temporary fix. 
The Boy Genius Report suggests taking the device to the Apple store and requesting a replacement.
These issues surfaced a few days after the highly anticipated Sept. 25 release of the tech giant's newest smartphone. Other issues reported involve the phone overheating, the phone's speaker distorting sound and occasional failure of the new 3-D touch feature, Boy Genius Report reports. The 3-D touch feature should allows users to operate different functions on the phone based on their finger's pressure on the screen.
The iPhone 6s and 6s Plus boast 4k video quality and a 12-megapixel camera.