Verizon "Zombie Cookie" and AOL Combine for Increased Tracking and Targeted Ads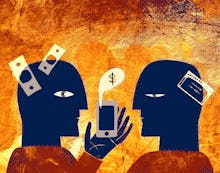 Following Verizon's $4.4 billion AOL acquisition in May, the two companies announced this week they're combining their advertising networks for increased user tracking. The new project will use upgraded cookie-based ad targeting, the advanced tracking system infamously referred to as a "zombie cookie," a method search engines and telecommunications companies use to advertise specific content to customers.
In an October advertising programs policy notice, Verizon writes, "Starting in November, we will combine Verizon's existing advertising programs ... into the AOL Advertising Network. The combination will help make the ads you see more valuable across the different devices and services you use."
The telecommunications conglomerate further explains the combined networks' programs will allow for both companies to further track their customers by "linking Verizon advertising program information to information AOL has" and "connecting app and web browsing activity so ads linked to your interests can appear in both." 
Verizon currently uses a "super-cookie" tracking program capable of following the company's 135 million customers' internet activity, despite any measures in place to protect their identity, the Washington Post reports. That program, dubbed the "Verizon zombie cookie," is essentially being given a major facelift with the latest news.
AOL will certainly benefit from the joint project as well, as the international media corporation will now be able to track deep into a users' online history, including deleted search terms and browsing history. 
While the news is certainly exciting for advertising companies, which build user profiles around users to target their specific interests and needs, increased tracking is typically a controversial topic among customers who prefer to remain anonymous. Luckily, both service providers feature kill switches for the additional tracking.
Here's how to turn off the Verizon zombie cookie, as well as AOL's cookie tracking program.