Joe Biden Is Still Undecided About a 2016 Presidential Run. This Is What We Know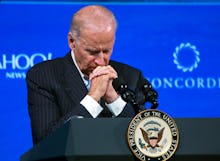 Vice President Joe Biden is calling a family meeting this weekend to discuss the possibility of a 2016 presidential run, CNN reports, after pleas from his supporters and rumors about a potential bid have gone mostly unanswered.
Over the past few months, the 72-year-old vice president has dropped hints that he's considering going up against Democratic candidates Hillary Clinton and Bernie Sanders, however not without hesitations. "Can my family undertake what is an arduous commitment that would be proud to undertake under ordinary circumstances?" Biden said while addressing an Atlanta synagogue on Sept. 3.
Biden is invited to the first Democratic presidential debate on Tuesday as long as he files with the Federal Elections Commission by the day of the debate, CNN reports. This would suggest that a decision is around the corner, except "people close to him" told CNN that he doesn't feel pressure to participate in the first debate and plans to announce his decision by mid-October.
Here's what we know about the possibility of #Biden2016:
His son's "dying wish": Biden, who lost his son, Beau Biden, to brain cancer in May, allegedly leaked that his son's dying wish was for Biden to take a shot at the oval office. 
The exclusive report from Politico on Tuesday claimed that Biden told the New York Times' Maureen Dowd himself that his son asked his father for a presidential bid, saying, "the White House should not revert to the Clintons and that the country would be better off with Biden values." Dowd anonymously cited Beau's plea in a New York Times column on Aug. 1.
Biden's staff has strongly refuted the allegation. "The bottom line on the Politico story is that it is categorically false and the characterization is offensive," a Biden aide told CNN on the condition of anonymity. 
His heart isn't fully in it. "The honest-to-God answer is I just don't know," Biden said while speaking at an Atlanta synagogue on Sept. 3. 
"Unless I can go to my party and the American people and say that I am able to devote my whole heart and my whole soul to this endeavor, it would not be appropriate," he told the crowd at the synagogue. The vice president noted that if he reaches that conclusion, he would "not hesitate to do it."
In an emotionally raw interview on The Late Show with Stephen Colbert on Sept. 10, Biden admitted that he isn't totally focused on a presidential bid as he processes the grief of losing his son.
"I don't think any man or woman should be running for president unless, No. 1, they know exactly why they want to be president, and two, they can look at folks out there and say, 'I promise you you have my whole heart, my whole soul, my energy and my passion to do this,'" he told Colbert.
He recently laughed off the idea. Biden awkwardly laughed off "run, Joe, run" chants from the audience when he made the keynote address at the LGBT advocacy group Human Rights Campaign's annual dinner on Oct. 3.
"Haha no, don't say that," he replied. "Ha, um — oh, anyway. All right. What was I saying?"
"Draft Biden" super PAC is rolling out the dough. The "Draft Biden" super PAC, which aims to push Biden to run for president in 2016, released an emotional six-figure ad on Wednesday in an attempt to rally support. 
The nearly two-minute ad, titled "My Redemption," uses the audio from an emotional commencement speech Biden made at Yale University just days before his son's death this year, recounting the moment he learned that his first wife and 13-month-old daughter were killed in a car accident in 1972.
"The idea, I think, of this ad is to, you know, really show as many people as possible, the millions of people who will see it online and when it's up on cable, a part of Joe Biden's story that isn't told often enough," Josh Alcorn, a senior adviser to Draft Biden, told NPR.
The super PAC recently hired paid staffers in 11 key primary states in order to ramp up its efforts, Reuters reports.