Azealia Banks Called Out Nicki Minaj's Feud With Miley Cyrus, And Made a Really Good Point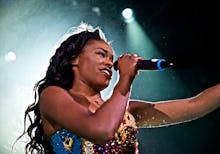 After the New York Times magazine released a profile of hip-hop superstar Nicki Minaj early Wednesday morning, rapper Azealia Banks used Twitter to express her frustrations with some of Minaj's soundbites. 
In the interview, Minaj told writer Vanessa Grigoriadis that she felt Miley Cyrus was out of line when Cyrus called Minaj out in an interview with the New York Times prior to the MTV Video Music Awards. 
During that event, Minaj uttered the now-infamous three words, "Miley, what's good?" as she accepted the award for best hip-hop video for her song "Anaconda."
"The fact that you feel upset about me speaking on something that affects black women makes me feel like you have some big balls," Minaj told the New York Times magazine this week. "You're in videos with black men, and you're bringing out black women on your stages, but you don't want to know how black women feel about something that's so important?" 
Minaj continued, "If you want to enjoy our culture and our lifestyle, bond with us, dance with us, have fun with us, twerk with us, rap with us, then you should also want to know what affects us, what is bothering us, what we feel is unfair to us. You shouldn't not want to know that.''
Following up on the interview Wednesday morning, Banks had plenty to add. Banks pointed out Minaj stayed silent on cultural appropriation until she missed out on another VMA nomination "Anaconda." 
Banks, too, has been an outspoken critic of cultural appropriation. In a December 2014 interview with Hot 97, Banks spoke about rapper Iggy Azalea, saying, "In this country, whenever it comes to our things, like black issues or black politics or black music, there's always this undercurrent of 'Fuck you,' there's always like a 'Fuck y'all n*ggas, y'all don't have shit, y'all don't own shit.'"  
Banks' tweets Wednesday, though, took a reflective tone after a few minutes, where instead of focusing on Minaj, she asked that more media outlets embrace female rappers. Banks has made it very clear in the past that the media has simplified her comments on race and female rappers. 
In the same December 2014 interview with Hot 97, Banks expressed frustration with the media's attempt to "fuck with the black girls" of hip-hop. 
"I feel like when I first came out," Banks said, "there was a lot of like 'You're going to be the new Nicki Minaj,' and the thing that I would always say is, 'Nicki Minaj isn't even the new Nicki Minaj, she just got here. Stop trying to..."
"Pit y'all against each other," host Ebro interrupted. 
"Exactly," Banks said. 
The profile does include mentions of Lil' Kim, but at no time does Minaj mention Kim directly, though there is a history of beef between the two. In the end, Banks bemoaned that, as long as the industry continues to pit women against each other, there may be no hope for a "female rap sorority." Unfortunately, according to Banks, those are just the "very basic times we have upon us."