Auli'i Cravalho Has the Best Reaction to Being Named Disney's Next Princess, Moana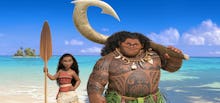 For one 14-year-old Hawaiian native, the dream of becoming a Disney princess is finally coming true. Walt Disney Animation Studios posted a video to its YouTube channel Wednesday revealing Auli'i Cravalho will star as the voice of an upcoming animated Disney feature, following the company's decision to widen the scope of its audiences by including more diverse leads.
Cravalho was auditioning for the lead role of the upcoming Disney film Moana, which centers on a young woman and her seafaring adventure, when filmmakers decided to surprise Cravalho with a twist. "They tricked me," she recalls in the video. As the actress was performing various scenes and emotions, producers decided to throw her a spontaneous request: "Imagine we gave you the part to Moana," they ask.
After interviewing her for a few minutes, they finally gave Cravalho the news. "We're not pretending now," one of the producers tells Cravalho, who was in Honolulu, over the live stream from Disney's Burbank, California, offices. "We want you to be the voice of Moana."
Cravalho's mother shares when she first heard the news about her daughter's new role in the Disney film, set for release in November 2016. "That was pretty sneaky," her mother says of the filmmakers' surprise. "We look at it as such a blessing... Yeah, it's real. It's really, really happened. Yes, Auli'i, you're Moana." 
Moana is the story of a young woman who takes on a journey to a mythical island, which her ancient ancestors tried to fulfill 2,000 years ago. Cravalho stars alongside Dwayne Johnson as Maui, a demigod who joins Moana on her quest. 
The move to feature a diverse female lead follows a press conference held by Disney and Pixar chief creative officer John Lasseter in May, announcing the film studios would focus on women and minorities in new releases. Most Disney princesses have been white. "It's very important to us ... to have female and ethnic characters," Lasseter said during the conference, Variety reports. "It's grown in importance over time. As you'll see in future films, we're really paying attention to that."
"Moana is such an amazing character," Cravalho told People. "She's brave, she is so empowered, she knows what she wants and she's not afraid to get it, and I think that's something that I can relate to as well. I just love watching how she goes along in this wonderful movie and grows as a person and helps her culture along the way."
Check out the full video, where Cravalho learns she will be the newest addition to the Disney princess crew, below: