Surgeons Successfully Reattach Baby's Head After Crash Results in Internal Decapitation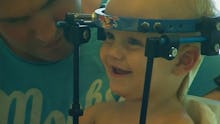 Australian doctors have accomplished a medical miracle: reversing a baby's decapitation.
NBC News reports 16-month-old Jaxon Taylor was internally decapitated following a 70-mph vehicular collision in New South Wales. Jaxon survived the collision, but his vertebrae were totally severed, leaving him with injuries so severe he is fortunate to have not died instantly.
But after a harrowing six-hour surgery, Jaxon is now learning how to walk again.
According to the news station, one of Jaxon's ribs was partially removed and refashioned into a graft that would allow the vertebrae to fuse together again. In the meantime, he will need to wear a neck brace to prevent further injury.
Spinal surgeon Dr. Geoff Askin, who treated Jaxon, told 7 News Melbourne that most toddlers that endured such a brutal injury would "never move or breathe again."
"More than 95% of people who suffer atlanto-occipital dislocation, or internal decapitation, die immediately," Dr. Nitin Bhatia, UC Irvine Medical Center's chief spinal surgeon, told Time in 2009. "Of the 5% who make it to the hospital, half die, and the other half are quadriplegics."
In 2010, a 2-year-old child who received a similar injury during a vehicular collision spent two months in the hospital before being released. A Marine from Morristown, New Jersey, survived a motorcycle crash resulting in internal decapitation earlier this year.