Microsoft Band 2: Features, Price and Release Info for Fitness Tracker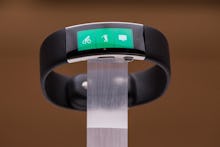 Microsoft unwrapped the second generation of its wearable device, the Microsoft Band 2, on Tuesday at the Windows 10 device briefing in New York City. The wristband is Microsoft's follow-up to its original wearable device, which was released last year. The Band 2 retails for $249 and is currently available for preorder, though the wearables won't start shipping until Oct. 30. 
Microsoft's new device builds on its predecessor by honing its focus on health and fitness, complemented by the company's health blog. "Microsoft Health is available as a universal Windows app, a dedicated app for iOS and Android devices and via a web dashboard, all enabling people to set wellness goals and receive actionable insights," Microsoft explained in a press release.
Features: Like most wearables, the Band 2 tracks heart rate, calorie burn and sleep quality, but it can also record floors climbed — something the first generation Band was unable to do. Microsoft's device has 11 built-in sensors, among them GPS, a microphone, a skin temperature sensor, a UV monitor and a barometer. The device boasts a full-color, curved display that measures 1.26 inches by 0.50 inches and a battery that can hold a charge for up to 48 hours, though GPS can lessen that timeframe. The Band 2 is compatible with Windows Phones, Androids and iPhones. A full list of specs can be found here. 
While the tech giant's first stab at a wearable device didn't totally bomb, it did leave much to be desired in the comfort and design departments, according to Engaget. And though Microsoft's second attempt at a wearable might not unseat Apple, Fitbit or Jawbone, the device is a definite contender when it comes to display, fitness tracking and personal assistant capabilities, International Business Times reports. According to some Twitter users, the Band 2 is a clear step in the right direction for Microsoft's wearables division. Check out a product demo via Pocketnow below.