This Dad Just Started A Daddy-Daughter Hair Braiding Class, and People Are Loving It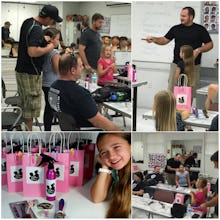 Last year, the Internet nearly fainted when a video surfaced showing actor Chris Pratt French braiding an intern's hair. "How charming! How... unusual!" the world screamed before fainting out of sheer joy. Now, one dad is trying to make the idea of men helping their daughters with their hair not so unusual at all. 
In a post on Reddit, Philippe Morgese — who goes by the username MashedPotatoh — announced that he just conducted a "Dads and Daughters" hair lesson. 
"I created a Dads and Daughters hair class to help other fathers learn about doing hair," the original post reads. "We had a small class full of dads that learned basic brushing, ponytails, braids and buns. The turnout was great! I'm so proud of these dads for stepping up and building a better bond with their daughters."
Morgese went on to share an image of the class, which was held at International Academy in South Daytona, Florida on Tuesday. 
"I wanted to help other dads, basically," Morgese told Mic via email."I am always praised for doing my daughter's hair. Perfect strangers will compliment us when we are out, which always made me feel great. I want other dads to feel that."
From the looks of it, the class was set up like a workshop, with dads put to the styling test by their young daughters. 
"The dads were all nervous at first, most of us haven't met before the class," Morgese said. "Within minutes of the class, though, the ice was broken, and we were all combing out tangles."
Morgese went on to show off the goody bags participants received afterward, which were filled with essentials like hair ties, brushes and barrettes. 
Cue the "awwwwww": Most amusing from this adorable episode, though, are the comments other Reddit users left on Morgese's original post. 
"Definitely master it!" one user writes. "I had the same issue with my daughter's hair so I talked to my mom (former hairstylist) and said 'give me the rundown, how do I do all this.' Practiced on some of her old hairdresser mannequin heads and now I'm pretty good at it. My little girl's hair looks good when she's off to preschool."
"Recently just learnt fish tail, have the double bows and braids down," another writes. "Daughters hair isn't thick enough at the moment for french but I cant wait!"
Hundreds of other commenters rushed in in support of the idea, pleading for the classes to expand. 
"DAMMIT IM A DAD AND I NEED THIS!," one user writes. "please help me! i do my daughters hair and i suck so bad at it! what can i do?!?!" 
"That's an awesome bonding moment," another writes.
"I need this class," another says. "Though I did manage a respectable french braid the other day that I'm pretty proud of."
More dads diving into girly haircare: At time of writing, the original post has received 5,503 points with 96% upvoted. For those who don't speak Reddit language: That's very good. Such positive response from a community known to be frequently awful, especially on matters related to sexism and misogyny, is an encouraging indicator that the social tide is changing and maybe (just maybe) the world is ready for men to step in and participate in their daughters' daily routines.   
After all, it's not the first time dads have come out in charming force showcasing their haircare skills. A kiddie salon called Cozy's Cuts for Kids in New York City recently started a class for fathers, a 45-minute session teaching the basics of brushing and detangling along with styling ponytails, ponytail braids and braided buns, the New York Times reported.
Chances are, this won't be the last time Morgese hosts a "Dads and Daughters" class. According to his Facebook, there will be more free sessions in the area, and he's eager to help other parents set up similar ones in their towns.
We just hope someone out there captures the results on video...
October 8, 8:13 a.m.: This article has been updated to include quotes from Morgese.