Kurt Cobain Solo Album: 2015 Release Date, Tracklist and More From 'Montage of Heck'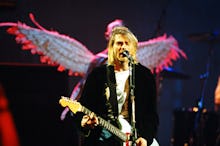 Kurt Cobain might have passed away in 1994, but the artist's work is still heard and felt throughout the music industry and among Nirvana fans worldwide. The "Smells Like Teen Spirit" musician, whose life is the center of HBO's documentary Kurt Cobain: Montage of Heck, has a new album with never-before-heard recordings from Cobain, as well as the rest of the group, being released Nov. 13. 
Filmmaker Brett Morgen, who directed the HBO documentary, was also responsible for putting together the installment of exclusive recordings. He tells Rolling Stone, "I curated the album to create a feeling that the listener was sitting in Kurt's apartment in Olympia, Washington, in the late '80s, and bearing witness to his creation."
A demo recording of "Sappy" featured on the new album, titled Montage of Heck: The Home Recordings, was posted to Cobain's Vevo YouTube channel Monday, providing a deeper look into the creative process behind Cobain's emotional, melancholy hits.
A deluxe version of the album will comprise 31 songs, demos and a medley recorded throughout the band's history, according to NME. Below is the track list from Montage of Heck: The Home Recordings.
1. "The Yodel Song"
The artwork for the upcoming album is an illustration of a stick-like cartoon human making fire out of twigs from a nearby tree. The picture feels somewhat similar to artwork for the band's 1992 album, Incesticide, which has a similar cartoon image of a person sitting down while holding a flower.
Cobain died in his Seattle home in 1994 of an apparent suicide. "It's a journey, an experience," Morgen tells Rolling Stone of the highly anticipated upcoming album. "We made the commitment that this wasn't just about the musical experience. This was about celebrating all of Kurt's creative efforts with audio experimentation."
Montage of Heck: The Home Recordings will be available at retails everywhere on Nov. 13.