Internet Users Donate Nearly $800K to Cover UCC Shooting Hero Chris Mintz's Medical Bills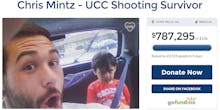 Chris Mintz, the 30-year-old U.S. Army combat veteran who was shot at least five times while charging a gunman who murdered nine people at Umpqua Community College in Roseburg, Oregon, on Oct. 1, is going to require a lot of medical attention before he is back to full health.
But Mintz will be able to focus on his recovery without worrying about medical bills, thanks to nearly 25,000 Internet strangers who by Wednesday evening had collectively donated more than $788,000 to a fund dedicated to paying for his recovery.
"During the shooting, both of his legs were broken and he is going to have to go through a ton of physical therapy," Mintz's cousin Derek Borgeois wrote on the page's description. "While Chris is not the type of person to ask for it, he is going to need all of the help he can get while he recovers!"
Mintz's aunt, Wanda Mintz, described his actions to Q13Fox, saying that at the time he "[tried] to block the door to keep the gunman from coming in. Gets shot three times. Hits the floor. Looks up at gunman and says, 'It's my son's birthday today.' Gets shot two more times."
Photos of Mintz taken after he was rushed into surgery showed the veteran smiling, though CBS reports he will require extensive physical therapy to help him walk again.
A separate fund run by the Greater Douglas United Way, called the UCC Strong Fund, has raised at least $250,000, according to the Oregon Register-Guard. Separate funds for the victims' families are listed on Mintz's GoFundMe page.
h/t Daily Dot