Meet the Body-Positive Porn Stars Busting Myths About Plus-Size Sexuality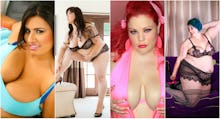 Many adult film stars enter the industry as soon as they turn 18. But Kitty Stryker waited until she was 26. "I had done other types of sex work, like professional domination and escorting," she told Mic.
"But I didn't think there was a place for me in porn."
The mere mention of the word "female porn star" conjures up a painfully stereotypical image of a big-breasted blonde woman whose flat stomach and soft features embody society's impossibly high beauty standards, a blank slate onto which viewers can project their most generic sexual fantasies.
But Stryker does not fit this description. Instead, she's a self-proclaimed "fierce fat femme" with a specific vision for how she fits into the porn industry. "I really want to make porn that feels accessible, smart, playful and fun," she recently told Mic. "And I want to be the kind of artist who makes you think while you jerk off."
She's not the only one. There are a number of plus-size porn stars who are currently redefining the sexuality of larger women and proving that great sex isn't just for skinny girls. Among them is the star who inspired Stryker to get into the industry in the first place, April Flores. 
"She was doing interesting, creative work that meshed porn and art in a way I found fulfilling and super sexy," Stryker said of Flores, a pioneer of plus-size porn. 
Recently, Flores launched a new website called Fat Girl Fantasies with fellow porn vet Courtney Trouble. Flores and her peers aim to revolutionize the porn industry and change peoples' perceptions of what sex looks like, one smutty video at a time.
"There is a need for work that represents body diversity, and diversity in the whole broad sense of the word in porn," Flores told Mic in a recent phone interview. "And when you see a need for something, you produce it."
While porn labeled BBW (Big Beautiful Women) has been around as a niche genre for some time now, the term itself has been criticized for propagating lazy stereotypes and reducing sexual interest in bigger women as a mere fetish. Indeed, with titles like "Whale Watching" and "Plumpers Like it Big" (NSFW, obviously) many BBW films were downright offensive. "Way back when, a lot of the big girl porn was very fetish, and not in a positive way," Kelly Shibari, a plus-size porn star and publicist, told Mic. "The titles were very derogatory. And unless you were a true fan, it wasn't something that you looked for." 
Furthermore, until recently plus-size performers weren't typically cast in mainstream adult film roles, nor were they paid as well as their mainstream porn counterparts. They also weren't recognized by the AVN Awards, also known as the Academy Awards of the adult film industry: not even five years ago, there was no such thing as a BBW category on the mainstream porn award show circuit.
But thanks in large part to the efforts of plus-size performers like Shibari and Flores, larger performers are steadily crossing over into the mainstream adult film world. Shibari, for instance, was the first (and so far only) plus-size star to be featured on the cover of Penthouse Forum. She also recently produced a plus-size sex ed video for Wicked Pictures, a company that typically doesn't feature plus-size performers. And since  the AVN Awards established a BBW category two years ago, Flores has won the awards for both of those years. 
Shibari sees this as a sign that the actresses' body positive messages might be getting across. "Producers have realized they can do genuine [BBW] porn without the 'freakshow' element," she said. "I always ask myself, 'What's available in mainstream porn that isn't available for plus-size women?'"
That said, the porn world hasn't changed overnight. If you look up any of these women on Pornhub, you'll likely see "BBW" pop up as a tag, despite the term's problematic and complicated history. 
Most of the women interviewed for this article told Mic that the term "BBW" isn't something they identify with on a personal level; rather, they simply see it as a necessary evil, a promotional tool to expand their audience and fan base. But Flores is taking it one step further by removing the term "BBW" from her website altogether. 
"It's not included in Fat Girl Fantasies because we're trying to evolve past one label. It's inclusive of all multiracial, pansexual, gender diverse, all this great stuff," Flores said. But she added that she understands why it needs to exist. "Porn is a product, so I understand that it's a label that helps identify that product."
Stryker told Mic that she identifies with the term "only as it pertains to marketing," adding that she sees it as "amusingly objectifying." Shibari agreed. "We try to take ourselves and our egos out of the situation," she said. "We ask, 'If a guy was searching for the stuff I create, what would he type in as a keyword?'"
While the work of these women is indeed progressive, they admit it can still be frustrating to live in a culture that is slow to realize that big women are just as sexual and deserving of love as anyone else. Stryker admits that she is still sometimes "afraid of being reduced to the trope of the hypersexual, sex-desperate fat chick seen in so many movies and TV shows."
In the IRL dating world, things can get even more complicated, with some men internalizing society's messages about what's considered attractive, often at the expense of their plus-size partners. "I've dated men who were happy to fuck me in private but didn't want to be seen with me in public," Stryker said. "I've had women [look right past]  me to talk to my partner when we're at a party together, because they figure that we must not actually be together." 
Sofia Rose, who was recently ranked as the third most popular BBW porn star in Pornhub searches, told Mic that for her, the key to beating the fat-shaming stigma of the world is self-confidence. "I dress how I want, and I am not afraid to wear a skimpy bikini to the beach," she said. "I don't care who's looking or who is offended. People in general are attracted to confidence."
At the end of the day, all of the women we spoke to for this article don't just want to provide men with masturbation fodder — they want their work to have ripple effects throughout the world at large. Rose told Mic that a primary driver of her work is to promote acceptance of larger women. "Self-acceptance amongst young women, primarily," she said. "People are beautiful at any size. [I want to show them] that sexy is defined by you and no one else."
Indeed, all four women confirmed that being in porn has led them to realize just how varied people's sexual preferences are — and how much interest there is in larger women, despite society's messages otherwise. "Men don't all like the exact same thing and sometimes they don't even know what they like until they see it," Sofia Rose told Mic. "They come across one BBW and realize they like it and its like a wildfire from there."
Flores' hopes are similar: to change cultural perceptions of plus-size women and sexuality by making the point that big girls are indeed sexy and desirable, not to mention DTF. "My goal is to show the world that fat women are sexual and can be viewed as desirable and beautiful. We're able to challenge what is considered beautiful, and that's what I want to do with my work," she said.
"Porn has propelled this mission."