5 of the Best Netflix Stand-Up Specials You Have to Watch Now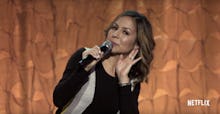 Netflix users understand the struggle of scrolling through literally thousands of television and movie options to find something worthy of Netflix and chill. Fortunately, there's no shortage of laughs, as the streaming service has given several comedians their own stand-up specials in recent years. 
While celebrity comedians like Chelsea Handler and Aziz Ansari, who each have their own cable TV specials, have had to keep their sets more politically correct for national audiences, the two didn't hold back in their Netflix specials. Several other, lesser-known stand-up comics have taken the stage for hilarious, if sometimes offensive, sets, broadcasting their acts to Netflix's 61 million subscribers.
Here are five of the best stand-up specials on Netflix:
Chelsea Hander: Uganda Be Kidding Me
The former late night TV host lets loose in her Netflix special, where she discusses everything from her wild safari vacation to Africa to lesbian best friends and her hatred of PETA. The 40-year-old comedian is reportedly moving over to the streaming service for a new online show, and if her set is anything similar to the star's special, fans are in for a politically incorrect treat.
Anjelah Johnson: Not Fancy — I Will Cut You
The stage for Anjelah Johnson's breakout special on Netflix exudes elegance, with dual chandeliers and beautiful drapes. However, the stand-up comic immediately informs the crowd she rented the lighting, and is far from fancy. Also, she will "cut you," and isn't afraid to let it be known throughout the special.
Anthony Jeselnik: Thoughts and Prayers
Anthony Jeselnik's Netflix special is perhaps the most vulgar, offensive and thought-provoking of the service's entire library of stand-up performances. The comic intends on offending each member of the audience, and is successful in his goal. This special pushes boundaries — it's not for the faint of heart.
Chelsea Peretti: One of the Greats
Chelsea Peretti has an extensive list of roles and features in network shows and specials, but this is the comic's first online special, and one of her best sets to date. The writer and comedian claims to be a "direct vessel to God" during her performance, and has the crowd reeling the entire time.
Aziz Ansari: Live at Madison Square Garden
Aziz Ansari brings his talents to Madison Square Garden for a stand-up special just as politically incorrect as Handler's, yet not quite as offensive as Jeselnik's. It's Ansari at his best, ripping on failed relationships, dating and hilarious anecdotes from the comic's life. The comedian, like Handler, will soon be given his own comedy show on Netflix.