An Office Park in California Just Launched Driverless Buses — This Is What They Look Like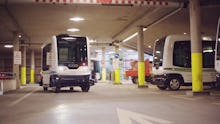 One day, kids are going to look back at the cars and buses we drive around in and wonder how the hell humans used to operate them. The next generations will think of automobiles like kids do today with Walkmans.
A couple of self-driving buses made by the French firm EasyMile are coming to Bishop Ranch, a giant office park in San Ramon, California, where companies like AT&T, GE, Coca Cola and Toyota operate. The buses will head there shortly after EasyMile finishes testing them at a nearby test site.
There are few details on the specific features for the California fleet. EasyMile's buses can be set on a "metro" or "bus" mode that puts them on a timed route with set stops, or they can be put in "on demand" mode where they are summoned and directed by a smartphone app.
Each bus holds 12 people and has two exterior buttons — one to open the doors and one to deploy an automatic ramp for handicapped passengers.
Besides GPS guidance, the buses have laser detection to sense elevation changes and obstacles. Should someone walk out in front of one, they can automatically adjust to come to a safe and slow stop, avoiding a collision without harming its passengers.
Private lots are the first frontier. While legislators figure out how to regulate and legislate around a futuristic vision of transportation that current laws simply don't account for, EasyMile is trying to sell its small-bus fleets to convention centers, airports and college campuses.
In the meantime, while giants like Apple and Google race to perfect their self-driving vehicles and the media speculates over exactly when (or if) driving your own car will be illegal, you're more likely to find one of these at your local mall in the next few years than swinging through your neighborhood. Hey, it's a start.