'Harry Potter' Digital Books Are Available Now on Apple iBooks and They're Awesome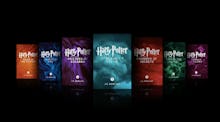 A new version of the Harry Potter book series will bring the wizarding world to life — and not just in the readers' imagination. Tech giant Apple released digitally enhanced versions of the entire Harry Potter series exclusively to its e-book app iBooks on Thursday that feature illustrated animations and commentary from author J.K. Rowling.
"I'm thrilled to see the Harry Potter books so beautifully realized on iBooks for the digital world; the artwork and animations in these enhanced editions bring the stories alive in a delightful new way," Rowling said in a press release. 
The books feature the full original text, custom book covers and animated artwork and annotations written by Rowling; the books are available to download in the United States on all Apple mobile or desktop devices for $9.99 each. Pre-orders are available for French, German and Spanish versions and will be available to purchase in 18 additional countries starting Nov. 9. 
The e-books were previously available to download on Rowling's e-commerce site, Pottermore, but have now been made available exclusively to Apple. 
The enhanced book releases come shortly after Warner Bros. announced that Harry Potter's muggle (non-wizard) fans can enjoy Christmas dinner at the original set of Hogwarts' Great Hall in London where Potter was fatefully sorted into the Gryffindor house and a plethora of gluttonous feasts were served throughout his years at the Hogwarts School of Witchcraft and Wizardry.