Selena Gomez Reveals Lupus Diagnosis and Undergoing Chemotherapy in 'Billboard' Interview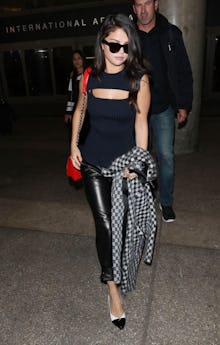 In an interview with Billboard published Thursday, singer-actor Selena Gomez revealed she was recently diagnosed with lupus, an inflammatory illness, and has been undergoing treatment for the autoimmune disease. In August, she announced she was putting her music career on pause. 
"I was diagnosed with lupus, and I've been through chemotherapy," she told Billboard. "That's what my break was really about. I could've had a stroke." At the time she announced her music hiatus, Gomez said her break was about making time for acting. 
"I wanted so badly to say, 'You guys have no idea. I'm in chemotherapy. You're assholes,'" she told Billboard. "I locked myself away until I was confident and comfortable again."
Public scrutiny is a symptom of fame, something many celebrities deal with on a constant basis. Tabloids tend to spotlight negative aspects of celebrities' careers or bodies — and women tend to get the brunt of the abuse. Serena Williams, Jennifer Lawrence, Kim Kardashian and Gigi Hadid are all recent examples of women whose bodies and careers have recently been under a public microscope, but the list of targets goes on.
Gomez has had a particularly rough go of it in recent months. The 23-year-old artist has been battling paparazzi, a hyperactive rumor mill and body-shaming Internet trolls since announcing her career break. 
Lupus is a chronic disease unrelated to cancer, though chemotherapy is often used to treat both illnesses. The disease affects the part of the body responsible for protecting against bacteria. With lupus, the immune system becomes unable to differentiate between foreign bacteria and healthy body tissue. In essence, it begins to attack healthy tissue, which can damage various organs and cause inflammation and pain.
In certain cases, the disease can be life-threatening. If properly treated, most people diagnosed with lupus live a full life, according to the Lupus Foundation.
Research from the Lupus Foundation says at least 1.5 million United States residents have been diagnosed with lupus, and 16,000 more cases in the U.S. are reported each year. More than 5 million people worldwide have been diagnosed with the disease, according to the Lupus Foundation of America. 
In the interview with Billboard, Gomez uses her hardship as fuel to persevere, and overcoming a potentially life-threatening image is helping her to cut through the clutter of public scrutiny — the worst of which has taken a toll on her self-esteem. 
"I'm so fucking nice to everybody, and everyone is so vile to me," Gomez told Billboard. "I've been working since I was 7. I've been a UNICEF ambassador since I was 17. It's so disappointing that I've become a tabloid story. The hate motivated me."
That motivation will be on display on Friday, when Gomez is expected to release her long-awaited sophomore studio album, appropriately titled Revival. Check out the empowering album art below.