N.W.A, Janet Jackson Lead 2016 Rock and Roll Hall of Fame Nominees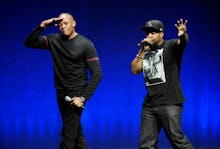 Rolling Stone released Thursday the nominees for the 2016 Rock and Roll Hall of Fame, with potential inductees including Janet Jackson, Chicago and N.W.A, the notorious hip-hop group that inspired the recent film Straight Outta Compton. Fans around the world will get another chance to vote for their favorite artists to be added to the list of some of the most influential musicians in history. 
According to the Rock and Roll Hall of Fame Foundation, musicians are chosen based on their "musical influence on other artists, length and depth of career and the body of work, innovation and superiority in style and technique, but musical excellence shall be the essential qualification of induction." Rolling Stone reports over 800 music industry experts, historians and respected artists are included in the exclusive voting process each year. Online voting for fans has been available since the foundation revamped its policy in 2012. 
Here is the full list of nominees for the 2016 Rock and Roll Hall of Fame:
1. The Cars
2. Chic
3. Chicago
4. Cheap Trick
5. Deep Purple
6. Janet Jackson
7. The J.B.'s
8. Chaka Khan
9. Los Lobos
10. Steve Miller
11. Nine Inch Nails
12. N.W.A
13. The Smiths
14. The Spinners
15. Yes
The Rock and Roll Hall of Fame adds an additional class of the most influential artists to its roster annually. Criteria requires that each musician on the ballot released their first album at least 25 years ago, making groups like the N.W.A (which had its first album Panic Zone released in 1987) and the Nine Inch Nails (Pretty Hate Machine was released in 1989) eligible for induction.
Fans have until Dec. 9 to choose who they'd like to see included in the "fan's ballot," which comprises the top five highest-voted artists. Vote for the 2016 Rock and Roll Hall of Fame on Rolling Stone.