Over 100 Protesters Disrupted the 'Suffragette' Premiere for an Important Reason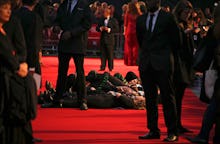 The fact that Suffragette was written, directed and produced by women and features a predominately female cast, about a pivotal moment in feminist history is a bit of an anomaly in the male-dominated world of big-budget entertainment. That may be why the red carpet of the premiere was the perfect backdrop for a protest by a domestic violence group to raise awareness about cuts in government funding toward resources for survivors of abuse. 
Members of Sisters Uncut, an organization that describes itself as a "feminist group taking direct action for domestic violence services," infiltrated the film's premiere Wednesday in London. They held banners protesting the U.K.'s domestic violence resource cuts, lay on the red carpet, set off flares and smoke bombs and distributed a flier that noted while Suffragette celebrates a century-old victory, "when two women a week are killed by violent men in the U.K., the struggle is not over," BuzzFeed reported Wednesday.
The Guardian reported in February that an Office for National Statistics study found that 1.4 million women and 700,000 men in England and Wales had been victims of some form of domestic abuse in 2014. However, safe spaces for this vulnerable population are facing closure across the U.K. What's more, a United Nations report on violence against women released a report this past summer criticizing the British government for its lack of "a consistent and coherent" approach to violence against women, the Guardian reported in June.
"Doors are being slammed on women fleeing violence," Sisters Uncut explains on its website. "Refuges are being shut down, legal aid has been cut, social housing is scarce and private rents are extortionate. What's more, local councils are selling out contracts to services who are running them on a shoestring — putting the safety of survivors at risk and deteriorating the working conditions for those who work with abused women."
Despite facing this recent pushback, many cast members spoke out in support of the protesters' actions, noting that such advocacy is at the heart of the film.
"I'm glad our film has done something," star Helena Bonham Carter told Sky News, the Guardian reported. "That's exactly what it's there for," she added, noting that the protest was the "perfect" response to the film.
"Hopefully this film will inspire everyone in the way they view the world," Carey Mulligan, another cast member, said. "We are an unbalanced society — women and men — and films like this inspire conversations about how we can correct that imbalance." 
h/t the Guardian