Taylor Swift Talks Nicki Minaj VMA Controversy: "I Send Text Messages Now"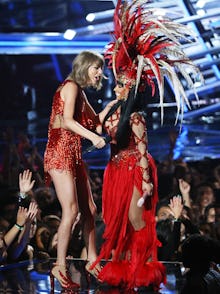 Taylor Swift made a rare stumble in July. She attempted to insert herself into a Twitter conversation Nicki Minaj attempted to start about the representation of black, curvy women in the media. Swift thought Minaj's disparaging comments about a video celebrating "women with very slim bodies" were about her own "Bad Blood." It was a whole mess of backlash, with much of the critique essentially boiling down to:
Swift is determined never to let that happen again.
In a recent interview with NME, her interviewer brought up the Minaj controversy. Swift had just a few choice words to share. "I don't want to talk about it," she told the magazine. "But I send text messages now. If there seems to be some kind of misunderstanding, I go to someone's management, I get their number and I text them. It's an important lesson for anyone to learn in 2015."
"You used to call me on my cell phone." It's an important lesson for every celebrity trying to maintain a flawless public face, which Swift has seemed intent on doing throughout her career. Swift's turning to her cell phone will help her skirt controversy; however, her silence will not help further the conversation, or offer her millions of fans a point of entry into the issues at hand.
The Great Swift-Minaj War of 2015 offered an interesting jumping-off point for several conversations surrounding the media's reliance on the "angry black woman trope," racial representation at the MTV Video Music Awards and the media's nasty habit of overlooking black bodies. 
We're still feeling the reverberations of those careless Twitter comments today. Just Wednesday, Azealia Banks criticized Minaj, this time for comments Minaj made in a New York Times Magazine profile about Miley Cyrus, who drew herself into the struggle before the VMAs. In the New York Times, she called out Minaj's tone, saying it fed the media's portrayal of the feud as a "catfight." 
Minaj spoke to Cyrus through the New York Times Magazine profile: "The fact that you feel upset about me speaking on something that affects black women makes me feel like you have some big balls," she said in the interview. "You're in videos with black men, and you're bringing out black women on your stages, but you don't want to know how black women feel about something that's so important?" 
Banks responded via Twitter:
Banks' Twitter rants are always extremely divisive and thought-provoking. Few could argue they don't know exactly what the rapper thinks. The way she uses the platform would never work for a star who's trying to bring the whole world into her squad — like Swift. 
Now that she's determined to only text about potential misunderstandings, we won't be getting as a wide a window into Swift's world on the other side of the cameras and the issues that guide those interactions. It's a better choice for her brand, if not for transparency.