Hollywood Sexism Has Gotten So Bad That the Federal Government Is Getting Involved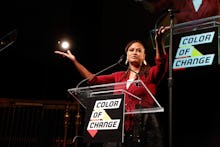 Gender inequality in the entertainment industry has gotten so bad that a federal agency is getting involved.
The Los Angeles Times reported last week the U.S. Equal Employment Opportunity Commission, which enforces laws against workplace discrimination, has started contacting female film and television directors to interview them about gender disparities in the industry.
The commission declined to tell the Los Angeles Times whether a full-blown investigation was underway, "citing federal law." But the letter the agency sent to schedule the interviews shows their intent. One section reportedly said the government is talking to women to "learn more about the gender-related issues which [women] are facing in both the film and television industries."
Multiple female directors told the Los Angeles Times it was refreshing these issues are finally being taken seriously.
The inquiry comes at a time of intensified conversation around the lack of female directors in Hollywood. In 2014, just 4.6% of films released by the six major studios — Disney, Fox, Paramount, Sony, Universal and Warner Bros. — were directed by women, according to the Los Angeles Times. That ended up being the lowest percentage mark in at least five years, as the yearly rate of female directors has fluctuated between 4.6% and a high of 8.1% since 2009. According to Deadline, only 16% of episodic TV directing jobs go to women. 
The American Civil Liberties Union addressed this disparity in May, calling for a federal investigation on behalf of the industry's female directors. If an inquiry finds cause, Hollywood could face a government-led class action lawsuit, Deadline reports.
Of course, a lack of female directors is not Hollywood's only diversity problem. Lack of racial diversity both onscreen and off — on top of other disparities that intersect with it, such as the limited roles available for women of color, for example — have not only been getting significant airtime lately, they've prompted legal action in the past. 
In 1969, a series of U.S. Equal Employment Opportunity Commission hearings in Los Angeles found that women and racial minorities were being discriminated against in behind-the-scenes industry jobs, but the matter was eventually referred to the Department of Justice and yielded "very few improvements," according to Deadline. In 1983, the Directors Guild of America filed a class-action lawsuit against Warner Bros. and Columbia on behalf of female directors, after which the number of female directors briefly rose and then declined again.
Maybe they'll do better in 2015.
h/t Vanity Fair