Rihanna Released New Album Artwork for 'ANTI.' Here's What We Know About R8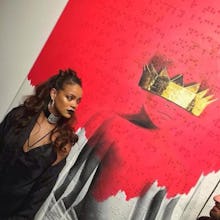 "Bitch Better Have my Money" singer Rihanna unveiled what she said is her "favorite album cover art yet" on Wednesday at a gallery event she's currently hosting in Los Angeles to showcase art that will be featured on her upcoming eighth album, ANTI, Complex reports.
The album cover, created by Israeli artist Roy Nachum, was inspired by a picture of the Barbados native on her first day of daycare and is texturized with a braille poem. Guests were reportedly encouraged to interact with the large art installations while blindfolded.
"The idea behind brail is people who have sight are sometimes the people who are blindest," Rihanna said after unveiling the art to the invited fans and journalists. The reveal was met with "YASSSS RHI" chants from the exclusive crowd. 
Nachum Instagrammed a hyperlapse video of his artistic process and captioned it: "Painting the cover of Rihanna's 8th studio album ANTI."
While release date and track list haven't yet been released, Rihanna tweeted on Thursday that it'll come "soon." ANTI will be Rihanna's first album in three years, which her good friend Jay-Z told Vanity Fair has taken so long to be released because "she wants it to be perfect."
Rihanna has made recently made a point to brand herself as unique and independent from other mainstream artists. The singer-songwriter told NME Magazine in September that she'll probably never appear among Taylor Swift's girl gang at one of her shows because "it just doesn't make sense."
"I don't think our brands are the same," she continued. "I don't think they match, I don't think our audiences are the same."
"In my mind she's a role model, I'm not."