Draconid Meteor Shower 2015: How to Watch Thursday's Meteor Show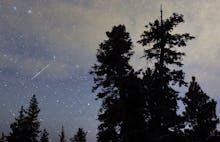 One of the most beautiful meteor showers of the year is expected to light up the night skies Thursday. The Draconid meteor shower will be visible from most of the Northern Hemisphere and, unlike most meteor showers, the perfect time to spot the Draconids shooting across the sky is at night rather than the early morning.
Astronomers estimate the Draconid meteor shower could boast 600 meteors per hour, or 10 per minute, compared to its typical 10 to 20 meteors per hour, NASA reports. "Most years, we pass through gaps between filaments, maybe just grazing one or two as we go by," NASA's Meteoroid Environment Office researcher Bill Cooke said in a statement. "Occasionally, though, we hit one nearly head on, and the fireworks begin."
Although storm weather and clouds may make watching the meteor shower difficult in some regions, AccuWeather reports the Tennessee Valley, the northern Plains, the Rocky Mountains and most areas covering the mid-Atlantic seacoast will be able to catch the Draconids as they pass over the Northern Hemisphere. 
Viewing the Draconid meteor shower should be easy across the U.S. because of the new moon.
AccuWeather recommends venturing away from heavily lit areas, as well as finding an open space under the sky, in order to capture the best views of the meteor shower. So grab a lawn chair, cancel your Netflix-binging night and look up into the night: the Draconids are coming.