Rihanna's New Album Hid 5 Beautiful Poems in Braille — Read Them Now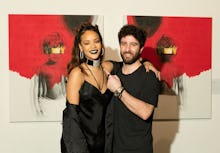 After months of silence and anticipation, Rihanna has finally set the stage for her upcoming eighth studio album. Wednesday night, the pop star hosted an unveiling of the album's title and cover art at Los Angeles' Mama Gallery. She also revealed five Braille poems that correspond to the album's inlays. 
The album will be called Anti, and the Braille can be seen right on the album's cover. It was designed by Roy Nachum, an artist dedicated to exploring "the boundaries between visual and non-visual perception," according to his biography.
"This is the first time an album has ever incorporated physical Braille," Rihanna's team wrote in a press release, according to Pitchfork. "The Braille inscription will also allow people who are blind to experience an entire album by touch."
Rihanna shared the front cover and the back cover, which shows the same image from behind, on Instagram, along with an explanation of her intentions and choice of the title Anti.
A single poem, divided into two parts, spreads across the covers. Written by Chloe Mitchell, a poet whose work has been heard previously on Kanye West's "The Blame Game," the poem reads: 
"If They Let Us Part 1"
Nachum painted four other pieces of art with oil and ash that will appear in the album's packaging. Three include poems; their titles and text can be read below.
"FIRE Part I"
Falling fast backwards into deep water.
"FIRE Part II"My face in deep shadows."FIRE Part III"
All the poems, and the album's cover especially, deepen a central theme of defying norms and expectations. Rihanna told us we should expect the unexpected with the album back in March in an interview with MTV.
"I wanted songs that I could perform in 15 years; I wanted an album that I could perform in 15 years," she told MTV. "I find that when I get on stage now, I don't want to perform a lot of my songs. They don't feel like me. So I want to make songs that are timeless."
With this packaging, she's setting herself up to go deep. The album still has no release date, but Rihanna's new announcements will continue to turn the anticipation dial all the way up to 11.
h/t Pitchfork