FKA Twigs Doesn't Feel the Need to Join Taylor Swift's "Squad"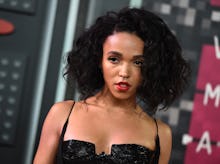 FKA Twigs could hardly be more different from Taylor Swift as an artist. The former's music and shows are abstract, divisive and darkly sensual. The latter's are chipper, extravagant and often highlight her wide network of celebrity friends. As FKA Twigs recently shared in a interview with Paper magazine, she has no desire to be counted among them.
"I think Taylor Swift is great, but I wouldn't necessarily think, 'Oh my god, I have to be friends with her,'" FKA Twigs told the magazine, offering her take on a sentiment that continues to spread throughout the pop world.
FKA Twigs' inventive live shows bring a wide diversity of people that she loves to see. She apparently fears losing those fans if she tried to shape herself to fit anyone else's squad. 
"When I meet fans, they're quite creative and intelligent, kind, sensitive," she told Paper. "Some are old ladies, witch doctors from Louisiana, kids that have just left art school. Gay or lesbian couples [and] straight middle-aged couples." 
And when asked what she thinks brings these fans out, the artist pointed to her genuineness. "I'm honest, and that comes out," she said. "Honest people come in lots of different types and they relate to things that aren't straightforward. I'm happy that people can roll with me, give me a chance, and let me explain my songs through my visuals." Her visuals have been the most impressive aspects of her work. She was nominated for three MTV Video Music Awards, one for her groundbreaking, self-directed "Pendulum" video, but took home zero.
Compare that count to Swift and her imperial squad's four awards.
FKA Twigs is just the latest artist to declare intentions to never join the Swift squadron. Rihanna shared a similar sentiment with NME in September: "I don't think our brands are the same. I don't think they match, I don't think our audiences are the same. In my mind she's a role model; I'm not."
Miley Cyrus made the same declaration in August. "I'm not trying to be in the squad," Miley told the New York Times. "None of my friends are famous and not because of any other reason than I just like real people who are living real lives, because I'm inspired by them."
These women make up the resistance to the Swift-led gang, which has already subsumed so much of the celebrity world. As impressive as these three holdouts are, they still might not be enough to stop the spread. As Saturday Night Live warned last weekend, Swift's squad seems destined to grow until it takes over the world: