Belarusian Journalist Svetlana Alexievich Was Just Awarded the Nobel Prize for Literature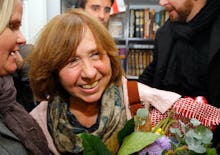 Svetlana Alexievich, an investigative journalist from Belarus, was awarded the Nobel Prize for literature on Thursday by the Swedish Academy. Alexievich is known for archiving the human toll of war for ordinary denizens living under the Soviet Union, from World War II to the Soviet invasion of Afghanistan. Of the 108 writers to win the Nobel Prize for literature, she is the 14th woman.
"It's not an award for me but for our culture, for our small country, which has been caught in a grinder throughout history," Alexievich said during a press conference in Minsk, according to Agence France-Presse.
"She is, of course, an extraordinary writer," Sara Danius, permanent secretary of the Swedish Academy, professor of aesthetics at Södertörn University and docent of literature at Uppsala University, said after the announcement. 
"For the past 30 or 40 years, she's been busy mapping the post-Soviet individual. But it's not really about a history of events, it's a history of emotions," Danius said. "So these historical events ... for example, the Chernobyl disaster, the Soviet war in Afghanistan and so on — these are, in a way, just pretexts for exploring the Soviet individual and the post-Soviet individual."
Alexievich unhurriedly immerses herself in different epochs, speaking to thousands of interviewees over a protracted period of time, using their accounts to chronicle well-documented periods of history. "This is how I hear and see the world — as a chorus of individual voices and a collage of everyday details," she said in an interview, according to the Guardian. 
"She spends years finding and interviewing her subjects, then weaves their testimonies into a polyphonic narrative that immerses the reader with relentless particularity in the individual and the collective experience of existence in the grinding jaws of history," Human Rights Watch said of her in their profile piece.
For Alexievich, the personal is inextricably political. Many people's reaction to her award, therefore, was politically charged, noting her vocal disapproval for Vladimir Putin's involvement in Syria and Ukraine, for example. 
The 67-year-old was born in 1948 in Ivano-Frankivsk, Ukraine, to a Ukrainian mother and Belarusian father. After her father left the army, the family returned to then-Belorussia, her father's homeland, where her parents were schoolteachers. At a young age, Alexievich became a journalist and reported extensively on the Chernobyl crisis. It was during this time she developed her style referred to as "epic chorus" or "collective novel."
"In this way, she's offering us a history of the human being — about whom we didn't really know that much, at least not in this systematic manner — and, at the same time, she's offering us a history of emotions, a history of the soul, if you wish," Danius said in praise of the new Nobel laureate. 
Excerpts of her book, Voices from Chernobyl: The Oral History of the Nuclear Disaster, can be heard below: