French Train Attack Hero Spencer Stone "Repeatedly" Stabbed, in Stable Condition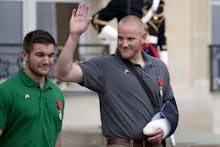 Spenser Stone, one of the two unarmed United States Marines who helped prevent a shootout aboard a French Thalys train in August, was stabbed multiple times late Wednesday night in Sacramento, California. Stone, 25, is currently in surgery and was initially said to be in critical condition, however reports indicated he has since stabilized, according to ABC7 News. 
Authorities confirmed Thursday that Stone was being treated for "non-life threatening injuries" in a statement. Investigators said they didn't believe the incident was "terrorism related."
"It is in no way related to the incident that occurred in France," the statement reads. "The assault does not appear to be a random act and is believed to be a nightlife related incident."
 ABC10 reporter Hayley Geunthner was live tweeting about the news on Thursday morning. 
Speaking to NBC News, an Air Force representative said Stone was alive and in stable condition. "We do not have any information as to the events preceding the incident," the representative added. "He is alive and in stable condition at this time."
On Aug 1., Stone helped take down Moroccan gunman Ayooub El-Khazaani, who was armed with multiple weapons on a train traveling from Amsterdam to Paris. During the struggle, Stone was stabbed in the hand with a box cutter but managed to help take down the accused terrorist. On Aug. 24, French President Francois Hollande presented Stone with the country's highest award, the Legion d'Honneur, NBC News reported. 
Oct. 8, 2015, 2:00 p.m. EDT: This story has been updated.
Oct. 8, 2015, 11:40 a.m. EDT: This story has been updated.