Watch Trans YouTuber Jamie Raines' 3-Year Transition in Less Than 4 Minutes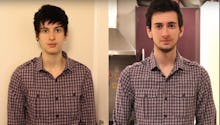 What a difference a little time makes.
YouTube user Jamie Raines, a 21-year-old trans man, shared a video documenting his nearly three-year journey beginning on the day he started hormone therapy to transition, Jan. 25, 2012. Raines took one selfie a day, chronicling the changes in his body through hormones and a surgical procedure to alter his chest. Those images were compiled in a YouTube video posted last November and is making the rounds as of late. 
Raines shared images of what his body — his face, stomach and biceps — looked like when he began to transition. 
One year into his transition, Raines showed many visible changes. Raines told BuzzFeed this week he initially planned to stop after one year, but decided to continue because he "didn't get any facial hair in my first year." 
A few months later, Raines shared pictures of his body again. After nearly two years on hormone therapy, Raines sprouted facial hair and body hair. 
Raines' side-by-side comparisons after 33 months show what daily selfies sometimes cannot: the radical change that comes with time. 
Congratulations, Jamie Raines! And thanks for sharing. 
Watch a time-lapse of Jamie's transition below: