Beach House New Album 2015: Release Date and Album Artwork for 'Thank Your Lucky Stars'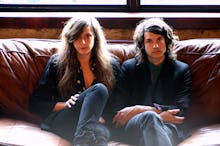 Dream-pop duo Beach House is about to reach a new milestone with two record releases in under two months. The Baltimore-based band announced the follow-up to its fifth studio album, Depression Cherry, is less a pipe dream and more a near-immediate reality on Wednesday. The band's sixth full-length, Thank Your Lucky Stars, is scheduled for release Oct. 16.
Beach House is vocalist Victoria Legrand and guitarist Alex Scally, a pair of musicians who have honed a particular breed of haunting, lovelorn indie-rock. The band has been steadily churning out records for nearly a decade, including 2008's highly acclaimed Devotion. The year of its release, Devotion made Pitchfork's annual 50 Best Albums roundup, which was a tipping point that helped the band gain exposure and build momentum.
Legrand and Scally leaked news of their forthcoming album via Twitter. 
Release info: For an album not meant to surprise fans, the quick turnaround time on Thank Your Lucky Stars is highly unexpected. Although it seems unlikely that Legrand and Scally could write and record a full album independent of their last LP, they have an explanation to cut through the confusion.
"[Thank Your Lucky Stars] was recorded at the same time as Depression Cherry, but for us, it's very much a different record," Beach House said in a Facebook post. "All of its songs were written after the DC songs. Along the way we realized that we didn't want it to be released in the traditional manner. Mainly, we just wanted our listeners to hear it first."
Thank Your Lucky Stars is also not meant to stand as a B-sides to Depression Cherry, according to a tweet from the band. 
Album art and track list: In advance of the record's release, the band shared album art via Instagram. The art, a black and white vintage photo, is an atypical choice for the group. The album art for 2010's Teen Dream and 2012's Bloom each boasted simple patterns, and the cover of Depression Cherry is nothing but bare text against a textured burgundy background.
Fans cans expect nine new tracks from Beach House, all of which boast sparse yet bold titles. With two new albums in its back pocket, Beach House has a whole lot of new material to support and will likely pepper numerous sets with some of the below tracks while on the road. Beach House is scheduled to tackle a world tour that continues through February. Thank Your Lucky Stars is currently available for preorder via Sub Pop Records. 
Here's the track list: 
Thank Your Lucky Stars:
1. "Majorette"