Kevin McCarthy Shocks Republicans by Dropping Out of the Running for Speaker of the House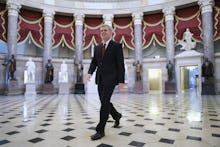 House Majority Leader Kevin McCarthy abruptly dropped out of the race to replace outgoing Speaker John Boehner (R-Ohio) during a private meeting with the Republican conference Thursday afternoon.
McCarthy announced the decision to a closed door gathering of GOP members of the House of Representatives as they prepared for a secret ballot to elect a nominee ahead of an Oct. 29 vote in the full chamber. McCarthy had been facing headwinds in the form of a skeptical group of 40 conservative lawmakers in the House Freedom Caucus and questions about his competence following comments to Fox News that suggested his colleagues' investigation into the deadly 2012 attack on Americans in Benghazi was really a tool for damaging Hillary Clinton's political ambitions.
"If we are going to be strong, we have to be 100% united," McCarthy said during a brief press conference in the Capitol on Thursday afternoon. 
In a statement, the majority leader from Bakersfield expressed concerns over his ability to bring together a divided Republican caucus.
"Over the last week it has become clear to me that our conference is deeply divided and needs to unite behind one leader," McCarthy said, "I have always put this conference ahead of myself. Therefore I am withdrawing my candidacy for speaker of the House." He will not resign his seat.
Still, McCarthy's withdrawal from the leadership race shook the political scene, sending the lower chamber into a state of pitched disorder and something of an emotional meltdown:
Best laid plans: Entering Thursday's secret ballot, McCarthy was expected to prevail over the hardline conservative Freedom Caucus, a bloc of tea party members who had put up one of their own, Florida Rep. Daniel Webster as an alternative. Webster, along with Utah Rep. Jason Chaffetz, are the two remaining declared candidates for the speakership. It is unclear who, if anyone, will enter the race.
Former vice presidential nominee Paul Ryan, a leading Republican congressman from Wisconsin, has said he will not partake:
With McCarthy's ascendance halted, congressional Republicans are moving into a period of upheaval not seen in a generation. Boehner's decision to walk off the job has been cast as a decisive victory for the forces of immoderation and opposition to President Barack Obama. McCarthy, who has served as Boehner's deputy since the beginning of 2015, is only nominally to the right of Boehner, which meant he has been faced with similar skepticism, and more vocal opposition, than his more intimidating predecessor.
The road to no: A relative newcomer to the Capitol Hill scene, McCarthy was first elected to Congress in 2006. He was elevated to majority leader after Virginia Rep. Eric Cantor was ousted by a conservative challenger. 
But McCarthy's first real test turned into an epic foul-up. Asked last week by Fox News host Sean Hannity if he had a strategic vision to take on Obama, McCarthy pointed to his colleagues' select committee on Benghazi. Ostensibly tasked with investigating the deaths of four foreign service employees during a terrorist raid in Libya, McCarthy described it as a vehicle for driving down Hillary Clinton's poll numbers.
True or not — Rep. Trey Gowdy (S.C.) has denied it up and down, while the Clinton campaign has used the comments to headline their first nationally televised ad — the gaffe has already damaged McCarthy's standing with his fickle caucus. Within days, Chaffetz announced he too would venture a bid for the speakership. 
Asked about it Thursday, McCarthy conceded he had badly flubbed his lines.
"That wasn't helpful," he told reporters. "Yeah, I could have said it much better."
But even as Republicans fumed at McCarthy for putting the lie to their latest Benghazi inquest, greater difficulties were lurking up ahead. The federal debt ceiling needs to be lifted by early next month, lest the U.S. risk a catastrophic default. About six weeks later, the federal government is again due to run out of money in mid-December.
Right turn? "A paler John Boehner is not what people are crying out for," conservative gadfly and Twitter-happy Republican strategist Rick Wilson told Mic earlier this week. "People are thrilled Boehner's leaving. And there's not a huge motivation right now to play ball with Harry Reid, Mitch McConnell and Obama. There's no motivation for these to guys to go out and say, 'Hey Kevin, throw yourself under the bus so we can pass Obama's budget.'"
Indeed, strong-arming a massive spending bill through the House, as Boehner might, would almost surely have led McCarthy to the wall of another Capitol Hill coup. 
Such is the conundrum facing the incoming speaker, whomever it is — a familiar game of chicken in which GOP House members bet they can extract some kind of meaningful concessions from the administration, which would much rather watch the Republican caucus self-immolate than open negotiations, against the political price of another shutdown.
Given the opportunity to lead Republicans down that path again, McCarthy has taken a pass.