Where Is the Line When it Comes to Fraternity Hazing?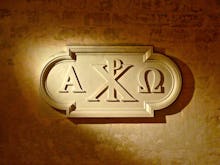 The Indiana University chapter of Alpha Tau Omega joined an illustrious club Thursday: fraternities banned for evidence of horrendous hazing on social media. After a video surfaced online depicting a pledge of the Indiana University chapter apparently being forced to perform oral sex on a hired exotic dancer, the chapter was immediately closed. However, the fact that dozens of other fraternities at schools across the country have been shut down since the beginning of March alone begs the question: Where is the line when it comes to hazing? 
Hazing is still prevalent. "Students were shocked yet, at the same time, unsurprised," one Indiana University junior, who wished to remain anonymous, told Mic. This particular chapter, which has frequently been called "the rape house," according to an Indiana Daily Student report, and has previously faced at least one claim of alleged rape, has been "trying to create a better reputation for itself" she said, but hazing at this particular fraternity as well as other fraternities on campus is still relatively "normal." Another Indiana University student, Steve Hopkins, agrees. 
While some students on campus reject hazing rituals and the college administration is "severely cracking down on all sorts of hazing," Hopkins told Mic, the practice is still "relatively normalized on campus" and many view the administration's restrictive actions as "oppressive and over-flexing their power." In fact, Hopkins said, he knows men who have pledged fraternities and "condone hazing and say that it formed stronger bonds between brothers and sisters than otherwise possible."
Yet, research shows that hazing is ineffective at doing just that, said Cliff Leek, managing editor of Men and Masculinities, told Mic. While there are team-building exercises that facilitate bonding, Leek said, "when you're talking about degradation and humiliation and violence and basically any sort of negatively experienced emotions involved in hazing, those have been shown to decrease group cohesion." What hazing does effectively accomplish, Leek said, is it makes group members "more compliant to norms of the group," which doesn't necessarily equate to loyalty or bonding.
Where's the line? While hazing incidents like this inspire near-universal outrage in the media, therefore, reactions on campus aren't quite as clear-cut. In fact, many support the practice as a beneficial experience for fraternity members.
"Our hazing often has a specific point or lesson," Adam Zwecker, a 2004 graduate of Cornell University, said in relation to an independent study project on hazing he conducted as a student. "The overall idea is perseverance and testing the pledge's ability to commit to his brotherly obligations. A lot of it also has to do with tradition ... It truly links generations and creates a unique bond."
The answer, according to Hopkins, isn't overarching, but must lie in individual consent. If pledges "knowingly volunteered to be a part of this process," he said, then it should not "have much significance" to others, he said. But if hazing "involves and degrades people outside the specific organization," he said, a line has been crossed.
"You can't have consent when there is coercion or when there are consequences to not consenting," Leek added. "When we're talking about hazing, we are talking about a situation where there are consequences for not giving consent so it's hard to even call that consent at that point."
It's part of a bigger problem. Determining what actually constitutes a positive or negative experience, however, is hardly straightforward — and points to a much broader problem.
"Oftentimes these hazing processes are just as much a part of becoming a man as they are becoming a part of a group," Leek said. This is made especially clear by the fact that research shows men's hazing is "much more likely to be sexual and physical and painful and often illegal than women's hazing is," according to Leek. "Clearly masculinity has something to do with this."
Scholars Michael Kimmel and Amy Aronson confirm this. 
"Social anxieties around masculinity also sustain hazing practices," they wrote in the 2004 book, Men and Masculinities: A Social, Cultural, and Historical Encyclopedia. "The more males are fearful of being labeled as weak, the more likely they are to participate in hazing activities that are dangerous and even life-threatening."
What constitutes the definitive line to be crossed when it comes to hazing, therefore, may be hard to determine. As experts and students alike suggest, perhaps focusing on hazing itself obscures the ultimate solution. The greater problem, it seems, is the normalized standard of toxic masculinity in our culture that hazing reveals. Rather than focus on banning hazing or punishing fraternities for participating in it, it's clear there's much more work to be done — far earlier and far more often.