1 Dead, 3 Injured in Shooting at Northern Arizona University's Flagstaff Campus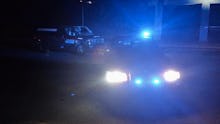 A shooting early Friday morning at Northern Arizona University's Flagstaff campus has left one dead and three injured. The gunman was captured alive and is now currently in police custody, according to a university statement. 
"The incident took place outside Mountain View Hall on the northeast end of the Flagstaff Campus. The first call of shots fired came in at 1:20 a.m.," the statement reads. "Campus is not on lockdown ... NAUPD is working on the investigation with the Flagstaff Police Department at the scene."
The injured are currently being treated at the Flagstaff Medical Center. So far, the killer's motive remains unknown.
NAU's campus is home to roughly 20,000 students, ABC News reported. 
An analysis by the pro gun control group Everytown for Gun Safety indicates that the carnage in Arizona is the 145th school shooting since the massacre at Sandy Hook in December 2012. 
This shooting comes on the heels of an even more deadly attack at Umpqua Community College on Oct. 1 that left 10 dead and seven injured. The tragedy saw a renewed plea by President Barack Obama to implement stronger gun control laws in the United States. During a press conference, Obama said that it was important to politicize the tragedy to help prevent similar events in the future. 
The National Rifle Association has largely declined to comment on these latest shootings, generally limiting itself to terse reminders of a now-familiar position that the answer to gun violence is more guns, not fewer. 
The shootings have also proved a thorny issue in the 2016 Republican presidential primary, with candidates struggling to strike a balance between supporting the Second Amendment to the U.S. Constitution and showing empathy toward the victims. Jeb Bush provoked a storm of criticism shortly after the killings in Oregon by appearing to marginalize the tragedy, saying "stuff happens." 
Dr. Ben Carson, a leading candidate in national polls has at various points suggested that students should have rushed the gunman, that teachers should be "trained in diversionary tactics," and that arming Germans in the 1930s could have prevented the Holocaust. The neurosurgeon turned presidential candidate has also literally laughed at reporters when asked about the shootings. 
During an interview with Fox News, Carson said that if he were president, he might not have time to visit the families in Oregon, but calmly added that he "would go to the next one."
With "the next one" now behind us, it is unclear if Carson has plans to head to Arizona.