Playmobil Toy Company Under Fire for Racist Toy in Pirate Ship Collection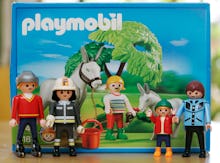 German toymaker Playmobil is in the hot seat after distributing a toy that some purchasers are calling racist. The toy, a pirate ship play set, comes with a dark-skinned character and instructions to affix a shackle around its neck, something some consumers said represents a slave cuff. 
Playmobil says the figure is meant to "represent a pirate who was a former slave in a historical context," however Ida Lockett, a mother from Sacramento, California, said she saw something different. After Lockett's 5-year-old son received the pirate ship set as a birthday gift, Lockett noticed the instructions and said the neck piece was shackle and the toy represented a slave, not a dark-skinned pirate like the company insisted. 
"This right here was found on his neck," Locett told local television station KOVR. "You cannot have this specific accessory and call it anything else. The fact that you can Google it, look it up, say what it is — it's a slave collar.
"It's definitely racist. It told my son to put a slave cuff around the black character's neck, and then to play with the toy. It's a racist piece. It's a racist toy."
Lockett has used Facebook as a platform to speak out against the toy company:
Lockett also claims the ship comes with a replica of a slave dungeon.
The toy was purchased from Toys R Us for $62.99, according to the Washington Post. Per Playmobil, the toy retails at full price for $89.99. 
As of Friday morning, the toymaker had yet to formally respond to the controversy. In a statement provided to the Washington Post, the company offered the following explanation:
"If you look at the box, you can see that the pirate figure is clearly a crew member on the pirate ship and not a captive. The figure was meant to represent a pirate who was a former slave in a historical context. It was not our intention to offend anyone in anyway."
According to the toymaker, the ship is meant to represent a 17th century pirate ship. Slave trading across the Atlantic Ocean began in the early 16th century, when European countries started transporting Africans to Europe and the Americas to work, often in brutal conditions. Slaves were sent en masse across the Atlantic on ships, shackled together below deck.
As of Friday morning, Lockett, Sacramento NAACP president Stephen Webb and others were urging Playmobil to recall the toy. 
"To be in 2015 and still see toys that are so senseless towards other races is truly sad," one consumer wrote in a product review on Amazon. "Why must the dark skinned figure wear a slave choker? I would never allow my children to play with this and look at others with question if they allow their children to. Just another way to teach separation among the races!"
"This is deplorable," Webb told KOVR. "This cannot be accepted and it needs to be pulled off the shelves."