This 11-Year-Old Cancer Patient Just Debuted Her First Collection at Fashion Week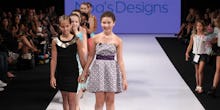 In February, 11-year-old Noa Sorrell was diagnosed with cancer. On Wednesday, she opened Los Angeles Fashion Week with a show of her own designs. 
The show was made possible by the Make-A-Wish Foundation, which granted Sorrell her one dream: show her own collection, which was full of spring-appropriate dresses, tops and skirts in shades like pink, baby blue and yellow. The items were all perfect for girls her age, on a real runway, on real models her age. 
In an interview with Harper's Bazaar, Sorrell said she's been drawing and designing since before she can even remember, but was inspired to make clothes only after her diagnosis, during her first round of chemo. 
"I was not feeling well and I needed something to take my mind away from how sick I was feeling," Sorrell told Harper's Bazaar. "I always wanted to design and sew clothes, and suddenly I had all the time on my hands." (Her cancer is now in remission.)
When it comes to her design aesthetic, Sorrell focuses on clothing that girls and young women would actually want to wear. 
"I design colorful, happy clothes mostly for teens, and also for adults," Sorrell said. "I design things that I could see myself or my friends wearing. I have designed sporty reversible tank tops for my friends to wear during sports events. When I design clothes, I usually try to make the piece according to them or their personality and the occasion that they will be wearing it to."
Sorrell presented her clothing as part of Art Hearts Fashion, a platform for designers to showcase their work in local Fashion Weeks. Art Hearts Fashion is also a longtime partner of the Make-A-Wish Foundation, which is how she was brought into the Los Angeles Fashion Week fold. 
Wednesday's show included Noa's Designs, as well as four other children's wear designers.
For the spring collection, Sorrell says drew and designed each look from head to toe, chose the fabrics and sewed every piece. Just her and her "little Singer sewing machine." For inspiration, she looked to the season.
"I was inspired by flowers blooming in the springtime and by the sunshine," she said. "I also wanted to make clothes that appeal to all styles and occasions. This is why my collection has prom dresses and skirts."
Reactions to the show were unsurprisingly sweet, with actress Alyssa Milano announcing herself as a fan to her more than 500,000 Instagram followers.
And as for her next fashion line, Sorrell's still unsure of what direction to go, but wants to keep it exciting, though that might require a tool upgrade.
"I might need to buy a new sewing machine," the fledgling designer told the Los Angeles Times, "because mine is very old."
We're sure she's got enough fans to help her out.
h/t Harper's Bazaar