The Geniuses at MIT Are Taking a Huge Step Toward Making College Affordable for Everyone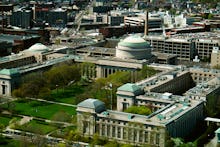 The prestigious Massachusetts Institute of Technology is offering an online graduate program that requires students to spend only one semester on campus.
The pilot program, announced by MIT president L. Rafael Reif, will allow students all over the world to take a free semester of the school's one-year supply chain management master's program online. Anyone can take the classes for free; there are no admission requirements. And to earn what MIT is calling an MITx MicroMaster's, students need to do well in the classes and get invited to complete the degree by taking the final semester on campus.
Essentially, it's an MIT degree, but without the $65,446 price tag.
"We're democratizing access to a master's program for learners worldwide."
"Inverted admission has the potential to disrupt traditional modes of access to higher education," Sanjay Sarma, an MIT mechanical engineering professor and the lead on the pilot program, said in a press release. "We're democratizing access to a master's program for learners worldwide."
Of course, this is only one free semester, which knocks half the cost off that price tag. And it's not a wholly novel initiative: MIT already offers free courses through its edX program, which launched in 2011. And if you aren't interested in a degree in the science and practice of getting goods and services from the factory floor to the hands of consumers, then this isn't really a big help to you. 
Reif said MIT would partner with companies and sponsors who can offer financial aid to students who are part of the MicroMaster's path. So if you wanted to go to MIT in the past but weren't able to due to grades or you couldn't stomach the costs, starting with the MicroMaster program gives you a shot at showing the university you can handle the workload and do well. And once you've done that, MIT will look for ways to pay for your education.
Right now the program is limited. But if it's successful, we may start seeing MIT offering similar services for their computer science or engineering programs, giving the world's future students an opportunity to get a first-rate education and prove themselves capable enough to also receive funding to stay on course.
"The rising cost of education, combined with the transformative potential of online teaching and learning technologies, presents a long-term challenge that no university can afford to ignore," Reif wrote, according to the press release. "At MIT, we are choosing to meet this challenge directly by assessing the educational model that has served the Institute so well for so long. We are experimenting boldly with ideas to enhance the education we offer our own students and to lower the barriers to access for learners around the world."