Young People in Maine Are Fighting Back Against Money in Politics — And Winning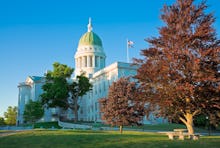 Spend any time on the campaign trail in New Hampshire or Iowa and you'll notice something remarkable happening in American politics: There's a vocal and growing grassroots movement to get money out of politics, and it's starting to earn the attention of presidential candidates.
Everywhere they go, Democratic candidates Hillary Clinton and Sen. Bernie Sanders (I-Vt.) draw some of the most thunderous applause when they talk about overturning Citizens United. Their fellow candidate Harvard law professor Lawrence Lessig is running with the sole goal of enacting public financing for campaigns. Republican candidate Sen. Lindsey Graham of South Carolina told Mic that super PACs are a formula for disaster. Even Donald Trump is railing against the amount of control lobbyists exercise over our system.
Of course, it's one thing to talk about the corrupting influence of money in politics. It's another to actually do something about it. That's exactly what's happening in the Pine Tree State.
Maine may be known to vacationers as the land of cliffside beaches and succulent lobster rolls, but for the politically minded it has long been an experiment for what clean, publicly funded elections could look like at a time when dark money spending from super PACs is skyrocketing.
A major ballot initiative called the Maine Clean Elections Initiative will be on the ballot on November 3, and many Mainers say the measure could serve as a model for how everyday people can band together to reclaim control over the political system from wealthy donors and special interests.
And young people are at the center of it all.
A laboratory for democracy of and by the people: The recent push all started almost 20 years ago, when Maine became the first state in the U.S. to implement a full system of public financing for public office. 
The premise of the Maine Clean Election Act of 1996 is simple: Allow candidates to run for office using public funds. Participation in Maine's public financing system is not mandatory, but once a candidate begins using public money, they cannot collect outside contributions. To be eligible, candidates must first collect a minimum number of $5 contributions from voters to show they are viable — the qualifying number ranges from 60 for candidates for the state House to 3,250 for gubernatorial candidates. 
The act first took effect in the 2000 election cycle. Participation quickly grew and, for several cycles, seemed promising. At its height in 2010, 80% of candidates used the system, including both Republicans and Democrats, according to Maine Citizens for Clean Elections. The law caused a drop in the number of uncontested races, meaning more people were running for office. Voter turnout also soared. The number of female candidates increased, and 7 out of 10 women said the act was very important in their decision to run in the first place. Maine also had one of the most blue collar legislatures in the country, with one out of every seven state representatives holding blue collar jobs. The system also seemed to be catching on nationwide, with other states like Arizona implementing similar laws.
But the act suffered a severe setback after the Supreme Court in 2011 deemed key parts of the law unconstitutional, including the provision that allowed candidates to get matching funds to compete with privately funded candidates. The rulings gutted the law, and participation plummeted. By 2014, use of the act had dropped to 51% of candidates.
Millennials are fighting back: A grassroots movement has collected more than 85,000 signatures and fought hard to get the Clean Elections Initiative on the ballot this year.
Also known as Question 1, the ballot initiative would restore and increase funding for the Clean Elections Act, and also toughen the law by raising fines and penalties on those who break it. It will also require candidates to disclose the top donors of their political ads, so voters know who is spending money to try to influence their vote.
Elizabeth Reinholt, 30, is the communications director for Mainers for Accountable Elections, and told Mic in an interview that young people and grassroots organizers on college campuses have been the catalyst for change. 
"Young people are energized about this referendum," Reinholt said. "So often, young people are disenchanted because they feel like there's nothing they can do and they are not part of the conversation about the direction of policy. This law is elevating their voice and opens the door for more young folks to run for office."
That's exactly what millennials are doing. There are many stories of everyday people whose voices aren't typically heard in politics, including teachers, plumbers and, most notably, millennials, who have taken advantage of this law to get elected.
Adam Goode, 32, is serving his fourth term in the Maine House of Representatives and is a chairman of the Taxation Committee. He is the son of a law enforcement officer and stay-at-home mom, never took a political science class in college and after graduation was working as an organizer on campaigns like universal healthcare and social security. He decided to run for office when he was 24, he told Mic in an interview.
"I'm grateful to have a system that encourages me to go door-to-door talking to people," Goode said. "[This law] means I don't have to spend hours on the phone calling wealthy donors and special interests. I can spend more attention learning about real people. A system where you have to spend all your time on the phone asking for money doesn't seem like the right system."
Ryan Tipping-Spitz, 29, is a second-term Democratic representative whose district includes the college town of Orono, Maine. He was working as a community organizer when he first ran for office at the age of 25, and told Mic that he may not have gotten involved in politics if it weren't for this law.
But he's grateful he did. "Clean elections allows people to run without having a lot of rich people in their Rolodex," Tipping-Spitz said. "I didn't want my town to be represented by someone who doesn't think health care is a human right, or that we should protect the environment and pursue real, affordable college tuition."
"This experience has been extremely educational, really gratifying, and it has been amazing to be given the opportunity to help people who live in my district," he said. "The root of our democracy is people. It shouldn't be money. [This law] helps bridge the gap between the people and the legislature."
Young people seem to be engaging in the political system in Maine in a way that's become all-too-difficult for cash-strapped recent college grads.
"When you're swimming in debt coming out of college, running for public office is not what any sane, resource-strapped millennial will aspire to," Logan Nee, 23, a recent graduate of the University of Maine, told Mic. "Creating this mechanism has fostered more civic participation and enhanced faith in a grassroots political process. At the same time it's given a true opportunity to Maine's young population to step up and make some positive change." 
A model for the rest of the country? The fate of Question 1 is uncertain. The initiative recently won the endorsement of Maine's independent Sen. Angus King, as well as former Democratic Sen. George Mitchell. A poll commissioned by a group supporting the initiative found that 84% of Maine residents said clean elections are important, but wider polling data is not available, and not everyone is in favor of it. Notably, Republican Gov. Paul LePage is opposed to the law. LePage's office did not return Mic's request for comment.
Regardless, the campaign's organizers feel this could be a model for the rest of the country. Reinholt believes "it will be a model that other states can use as they look to fight back against the large amount of money flowing into the system."
Andrew Bossie, executive director of Maine Citizens for Clean Elections, recently told Salon, "Our state motto is 'Dirigo,' meaning 'I lead' or 'I direct.' My hope is that when we win this campaign, that that's the beginning of a movement that would sweep this country to give U.S. citizens what they deserve, which is a government that works for all of us."
Nationwide, 89% of Americans, Democrats and Republicans alike, agree there's too much corporate money in politics. Judging from Sanders' impressive fundraising and reliance on small donations, the movement to level the playing field away massive checks appears to be gaining traction. 
But real movement will come on the state and local levels, and for the Maine act's biggest supporters, there's a lot riding on the fate of Question 1 in several weeks.
"If people want a system where they know where their politicians get their money, and their politicians can work for them, they can have that and we have that in Maine," Goode, the state representative, said. "If people want to have elections controlled by wealthy special interests, they can continue the current system. We're better than that."