New Study Confirms Racial Bias in Names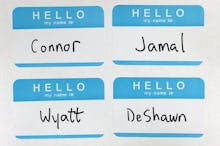 Researchers from the University of California, Los Angeles, say that males with "black-sounding" names are more likely to be perceived as physically larger and more violent than men with "white-sounding" names, according to a new study published online Sept. 7 in the Journal of Evolution and Human Behavior. The study underscored what many say is prejudice in how some people treat others based on their names — basically, that people with stereotypically black names are treated differently, often worse, than people with stereotypically white names. 
To draw this conclusion, UCLA researchers carried out an experiment with more than 1,500 American adults, the majority of whom were white. The study was designed to measure how participants thought about race in hypothetical, aggressive situations, and how those perceptions related to social status. 
Colin Holbrook, the study's chief author and a research scientist at UCLA's Center for Behavior, Evolution and Culture, said in a statement he has never before "been so disgusted" by his own findings.
"The amount that our study participants assumed based only on a name was remarkable," Holbrook said in the statement. "A character with a black-sounding name was assumed to be physically larger, more prone to aggression and lower in status than a character with a white-sounding name."
How the study was conducted: Researchers presented study participants with two near-identical, hypothetical situations describing a confrontation at a bar. In one scenario, the aggressor's name was Jamal, DeShawn or Darnell. In the second scenario, the aggressive character was referred to as Connor, Wyatt or Garrett. For both hypotheticals, study participants were asked to describe the height, build, status and propensity toward aggression of the main character. 
According to the findings, participants were more likely to imagine characters called Jamal, DeShawn or Darnell as physically larger and more violent than those named Connor, Wyatt or Garrett. A secondary finding suggested that increasing perceptions of violence correlated to decreasing perceptions of financial standing and social status. 
"White characters ... could be imagined as somewhat violent, but this did not lower (or affect) the amount of social prestige that they were imagined to have," Holbrook told the Huffington Post. "By contrast, if black characters ... were imagined as having a temper, this was strongly incompatible with the amount of status that they were imagined to have in society." 
Holbrook added that the team "initially expected tendencies toward violence to lower the status attributed to the white characters, too, but this was not the case."
A larger trend: The study adds to the growing body of research linking perceptions of race to discrimination, and the mounting evidence of racial gaps in both stop-and-frisk incidents and the U.S. justice system.
In June 2014, Harvard computer scientist Latanya Sweeney estimated that searching Google for "black-sounding" names was 25% more likely to generate Google Ads for Instant Checkmate, a company that runs background checks and provides public records. The ads could suggest the person being searched had an arrest record, regardless of whether or not that was the case.
In October 2014, data from the American Civil Liberties Union found that Boston's black residents were more likely to be selected than white residents for "stop and frisk" incidents. In January, another study from Tufts University psychologists uncovered unconscious racial biases plaguing the U.S. criminal justice system that could "taint legal decision-making."
When a grand jury ruled in December to pardon the white police officer involved in the death of Eric Garner, a 43-year-old black man from New York City, the hashtag #CrimingWhileWhite crashed through the Internet to call out double standards in how law enforcement often "under-punishes" white offenders.